Resources – Clinical Programs
For the Public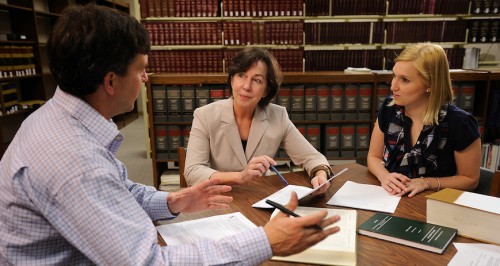 Document Replacement Kit
In the summer of 2011, Pro Bono Initiative students created a Document Replacement Kit to assist disaster victims. The project was a reaction to the devastating tornados that struck Northeast Mississippi and Alabama that spring. The Kit is used by the Mississippi Bar to assist victims of disaster. For its work on this project, the Pro Bono Initiative received the Mississippi Volunteer Lawyers' Project Pro Bono Award for 2011.
View the Document Replacement Kit Website
View the Document Replacement Kit PDF
Hurricane Katrina Manual
After Hurricane Katrina struck the Mississippi Gulf Coast in August of 2005, the UM Clinics linked Mississippi students and professors and clinical professor volunteers across the country to develop the Hurricane Katrina Manual. The 100-plus page manual was used by attorney volunteers to assist coast residents with housing, consumer, insurance, FEMA benefits, and many other issues. The Manual is still used by the Mississippi Bar Young Lawyers' Disaster Relief Committee.
View the Hurricane Katrina Manual (pdf)
Landlord-tenant Education Packet
Pro Bono students developed a training module and materials for high school and community college students, to assist them in avoiding common mistakes made by first-time renters. The module features a prezi and entertaining housing court skit. The program was featured on Mississippi Public Radio.
Download Landlord-tenant Education Packet (pdf)
Veterans' Benefits brochure
The Elder Law Clinic and North Mississippi Rural Legal Services produced a brochure for Mississippi veterans and their families to explain benefits available to them.
For Attorneys
Child Support Modification Manual
Pro Bono Initiative students in 2011-12 developed a detailed set of training materials, forms, and instructions for pro bono attorneys assisting low-income clients in child support modification actions. The materials were used for a year-long child support project in collaboration with North Mississippi Rural Legal Services, and are used by the Mississippi Volunteer Lawyer Project (MVLP).
Guardian Ad Litem Training Videos and Materials
Clinic professors David Calder and Debbie Bell organized and produced a six-hour set of videos to be used by the Mississippi Bar Child Advocacy Committee to train guardians ad litem. Attorneys trained through the videos agree to serve as a volunteer GAL in at least one case each year. (will provide link when the new parts are edited in)
Pro Se Assistance Training Video
The Pro Bono Initiative produced a one-hour training video for lawyers assisting pro se litigants in PBI and/or Mississippi Volunteer Lawyer Project programs. The video allows MVLP to train volunteer lawyers across the state. Link to follow.
Mississippi Access to Justice Symposium
The Pro Bono Initiative and Supra, the online version of the Mississippi Law Journal, hosted an Access to Justice Symposium at the law school in the Spring of 2012. Speakers included Mississippi Supreme Court, Court of Appeals, and trial court judges, former bar presidents, leaders of Mississippi public interest organizations, and nationally-recognized leaders in the access to justice movement.