Giving Areas
Below is a list of the giving areas that you may specify for your gift.
Unrestricted
Gifts not restricted to support a specific scholarship, program or professorship are used to support the areas of greatest need at the School of Law.  Currently, unrestricted gifts support the following:
Scholarships
Mississippi Law Journal
Outstanding Student Awards
Moot Court Programs and Awards
Faculty and Staff Awards
Faculty Research Grants
Alumni Activities
Library Support
Dean's Initiatives
UMLawyer magazine
To make an unrestricted gift, please visit the ways to give page.
Current Fundraising Projects
Scholarships
Scholarship support for deserving students remains our top priority. Scholarships help us recruit and retain the best and brightest, and ensure access to education for all deserving students.
Professional Skills Program
The School of Law will soon introduce the Professional Skills Program, a two-week, skills-based session at the beginning of each spring semester. The inaugural program was held in the spring of 2013, offering a handful of courses, and will grow each year into a comprehensive session of dozens of skills courses taught not only by our faculty, but also by visiting attorneys and judges. The Professional Skills Program will be a true "Bridge-to-Practice" for our students, forever transforming legal education and the practice of law in our state.
The Brick Campaign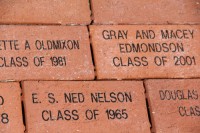 Secure your place in the courtyard of the new Robert C. Khayat Law Center, with a commemorative brick.
To order a brick, please fill out the brick campaign order form (pdf) and mail to Jamie White, Room 3017 Robert Khayat Law Center, University, MS, 38677, or for more information on how to support these initiatives, please contact Jamie White.
Ongoing Initiatives
Existing scholarship or program endowment
The School of Law currently boasts 109 scholarship endowments and 25 endowments for program support.  For the 2013-14 academic year the school will receive over $470,000 in scholarship support for deserving students and over $340,000 in programmatic support from these endowments.
For more information on supporting an existing endowment, or creating a new endowment, please contact Jamie White.
Lamar Order Endowment
Many members of the Lamar Order have directed their support to the Lamar Order Endowment, an investment in the greatest needs of the school (please see the above section, on unrestricted giving, to see the areas supported by this endowment).  Through years of growth and devoted support, the Lamar Order Endowment has grown to over $2.2 million (as of December 31, 2012) the earnings from which will provide over $90,000 in support for the coming academic year of 2013-14.
If you would like to make a gift, please visit the ways to give page.