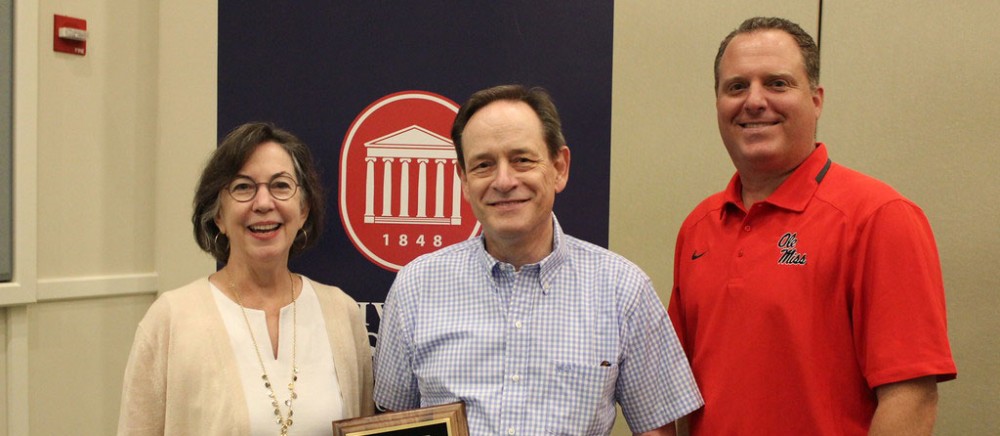 The Law Alumni Chapter is the organization that represents all graduates of The University of Mississippi School of Law. The Law Alumni Chapter sponsors the annual Law Weekend, the Law Alumni Hall of Fame, the UM Law Alumni Luncheon at the Mississippi Bar's Annual Meeting and various other alumni gatherings throughout the year. If you would like to be involved with the School of Law, please contact Scott Thompson, law alumni secretary, at thompson@olemiss.edu or call (662) 915-1878.
View photos taken at past events sponsored by the Law Alumni Chapter at the Alumni Event Photos Page.
Thomas E. Vaughn – President
George J. Nassar, Jr. – President-Elect
Scott Thompson – Executive Secretary
Robert R. Bailess
Deborah H. Bell
Lewis W. Bell
Robert E. Box, Jr.
Terry L. Caves
Edward P. "Ted" Connell, Jr.
G. Gerald Cruthird
Julie J. Gresham
Benjamin E. Griffith
Timothy C. Holleman
Jeffrey P. Hubbard
David M. Ishee
Helen H. Kenwright
Wesla Sullivan Leech
Vicki R. Leggett
Randy G. Long
Catoria "Torri" Parker Martin
Suzette Matthews
John M. McCullouch
Jessica R. McLaurin
Jessica Banahan McNeel
Floyd M. Melton III
Rush O'Keefe
Colette A. Oldmixon
Scott W. Pedigo
Thomas W. "Trea" Southerland III
William C. Trotter III
Allyson L. Vaughn
John E. Wade, Jr.
Wesla Sullivan Leech, Mendenhall, MS • 2014-15
Floyd M. Melton III, Greenwood, Miss. • 2013-14
Colette A. Oldmixon, Poplarville, Miss. • 2012-13
Robert R. Bailess, Vicksburg, Miss. • 2011-12
William C. Trotter III, Belzoni, Miss. • 2010-11
Aleita S. Fitch, Holly Springs, Miss. • 2009-10
William T. May, Meridian, Miss. • 2008-09
Al Povall, Jr., Oxford, Miss. • 2007-08
Robert Jackson, Sr., Hattiesburg, Miss. • 2006-07
Walker W. "Bill" Jones, Jackson, Miss. • 2005-06
Marjorie T. Matlock, Oxford, Miss. • 2004-05
David O. McCormick, Pascagoula, Miss. • 2003-04
C. York Craig, Jr., Jackson, Miss. • 2002-03
Richard G. Noble, Indianola, Miss. • 2001-02
H. A. Moore III, Hattiesburg, Miss. • 2000-01
John A. Crawford, Jackson, Miss. • 1999-2000
E. Josh Bogen, Jr., Oxford, Miss. • 1998-99
Billie J. Graham, Laurel, Miss. • 1997-98
Robert B. Prather, Columbus, Miss. (president-elect; deceased) • 1997
Raymond L. Brown, Pascagoula, Miss. • 1996-97
John M. McCullouch, Jackson, Miss. • 1995-96
D. Briggs Smith, Jr., Batesville, Miss. • 1994-95
Landman J. Teller, Jr., Vicksburg, Miss. • 1993-94
Donnie D. Riley, Gulfport, Miss. • 1992-93
Guy W. Mitchell, III, Tupelo, Miss. • 1991-92
Jay A. Travis, III, Jackson, Miss. • 1990-91
Brooke Ferris, III, Memphis, Tenn. • 1989-90
Roy C. Williams, Pascagoula, Miss. • 1988-89
George P. Cossar, Jr., Charleston, Miss. • 1987-88
William J. Gunn, Jr., Meridian, Miss.(deceased) • 1986-87
Roger M. Flynt, Jr., Oxford, Miss. • 1985-86
Ray M. Stewart, formerly of Picayune, Miss. (deceased) • 1984-85
Edward P. Connell, Clarksdale, Miss.(deceased) • 1983-84
Pat H. Scanlon, Jackson, Miss. • 1982-83
James F. McKenzie, Hattiesburg, Miss. • 1981-82
Robert W. Elliott, Ripley, Miss. • 1980-81
Herman E. Taylor, Memphis, Tenn. (deceased) • 1979-80
C. Eugene McRoberts, Jr., Jackson, Miss. • 1978-79
Carl A Megehee, Pascagoula, Miss. • 1977-78
Lester F. Sumners, New Albany, Miss. (deceased) • 1976-77
W. Emmett Marston, Memphis, Tenn.(deceased) • 1975-76
James T. Singley, formerly of Meridian, Miss. (deceased) • 1974-75
Sherman L. Muths, Jr., Gulfport, Miss. • 1973-74
Ernest W. Graves, Laurel, Miss. (deceased) • 1972-73
N.S. Sweat, Jr., Corinth, Miss. (deceased) • 1971-72
Edward J. Bogen, Sr., formerly of Greenville, Miss. (deceased) • 1970-71
George P. Hewes III, Jackson, Miss. (deceased) • 1969-70
Charles D. Fair, formerly of Louisville, Miss. (deceased) • 1968-69
James N. Ogden, formerly of Mobile, Ala. (deceased) • 1967-68
Chester H. Curtis, Clarksdale, Miss. (deceased) • 1966-67
William F. Winter, Jackson, Miss. • 1965-66
Hugh N. Clayton, New Albany, Miss. (deceased) • 1964-65
Forrest G. Cooper, formerly of Indianola, Miss. (deceased) • 1963-64
Gaston H. Hewes, formerly of Gulfport, Miss. (deceased) • 1962-63
Joe H. Daniel, Jackson, Miss. (deceased) • 1961-62
Curtis M. Swango, Jr., formerly of Sardis, Miss. (deceased) • 1960-61
Hugh V. Wall, formerly of Brookhaven, Miss. (deceased) • 1959-60
Stokes V. Robertson, Sr., formerly of Jackson, Miss. (deceased) • 1958-59