Civil Legal Clinic
Message from the Director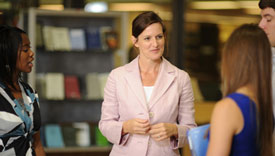 Welcome to the Civil Legal Clinic's website. I am glad that you are visiting our site and are interested in learning more about our clinic.
There is a growing demand among law students for more opportunities to learn how to be competent, ethical and skillful lawyers while in law school. Employers also demand graduates who are fundamentally ready to practice the law before they are hired. At the same time, there has been an upsurge in demand for pro bono legal services for indigent clients due to the current economic crisis.
The clinic responds to these demands by engaging law students in complex legal practice where they learn to work intimately with a team comprised of other students, their professors and members of the private bar. Clinic students also participate in a classroom seminar that provides the students a mechanism to translate legal concepts and theories they learn in the classroom into actual practice on behalf of a client.
The clinic strives to provide the highest quality legal representation to its clients and by doing so to demonstrate the kind of legal practice law students should strive for after leaving law school. All told, clinic students provide more than 5,000 student attorney hours each year to indigent civil clients throughout the state.
The quality legal representation and heightened teaching provided by the clinic is not inexpensive, however. The clinic has traditionally relied on private donations, grants and law school funding in order to meet its mission. Recently, the clinic has embarked on an ambitious endowment campaign to create two permanent clinical teaching positions. When fully funded, the endowment will make the law school's clinical program a truly exceptional one, will decrease the clinic's dependence on cyclical giving, and will ensure the clinic's operations into the future. I encourage you to contact us to learn more about how you can support that effort.
Thank you again for your interest in the clinic and please feel free to contact me if you have any questions.
Sincerely,
Desiree Hensley