Civil Legal Clinic
Clinical Learning Programs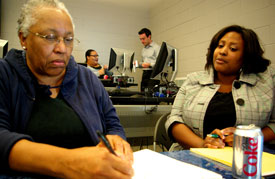 The Civil Legal Clinic helps prepare law students for the actual practice of law while providing unparalleled legal services to clients who otherwise would not receive them. Students in the Civil Legal Clinic represent children who have been abused and neglected; families who are housed in unsafe conditions or have been evicted illegally; consumers who are scammed by unconscionable lending practices; and the elderly who have nowhere to turn for help.
Civil Legal Clinic students assume responsibility for their own clients and cases—from interviewing witnesses to investigating facts to arguing in court under the close supervision of experienced clinical faculty. Clinic students take their first steps toward developing a personal lawyering style and building their professional reputation while representing clients who are most in need.
Eligibility
Second-year and third-year students are eligible, but preference is given to third-year students. Third year students are eligible to be sworn into the Mississippi Bar under the Limited Practice Act as a part of their participation in the clinic.
Credit Hours/Duration
The Clinic credits vary by practice area (3-5) graded hours depending on section enrolled in.
Clinic Structure
Students enroll in one of five practice areas, each of which is taught and supervised by an experienced attorney. Substantive and procedural law is taught, and casework is supervised in a small group setting. Students meet as a large group to discuss case challenges and to learn key practice skills such as client interviewing, counseling and negotiating. Students also are responsible for staffing the clinic's intake hours.