Tuition & Financial Aid
Please note the below information is for the J.D. program. Tuition and Financial Aid information for the LL.M. program can be found in the LL.M. applications section.
---
Tuition Fees (for the 2013-2014 academic year)
| | | |
| --- | --- | --- |
| Full-time | Residents |  Non-Residents |
| Fall | $6,813.40 | ($6,813.40 + $7,349.50) |
| Spring | $6,194.00 | ($6,194.00 + $7,349.50) |
| Total   | $13,488.00 | $29,288.00 |
1LS will be enrolled in 16 credit hours for fall, And 15 credit hours for spring.
**PLEASE NOTE: Tuition for the upcoming academic year may change.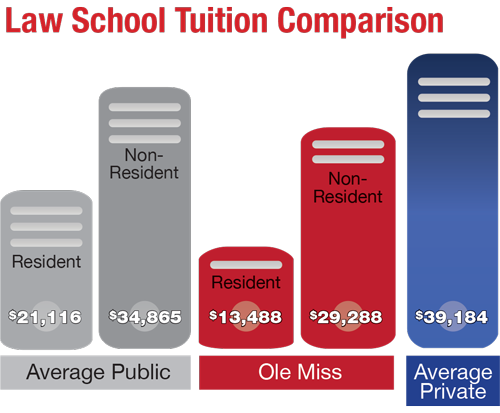 ---
Financial Aid
Most of our students receive financial aid. Applicants should visit the financial aid website or contact the office via e-mail at finaid@olemiss.edu or phone at 1-800-891-4596.
---
Scholarships
Applicants who feel that they might be in contention for a scholarship should file their law school application as early as possible because scholarship offers may be made as early as December. There is no need to fill out a separate scholarship application. Acceptance of a scholarship still requires the payment of both seat deposits.
Requirements
All J.D. applicants are given automatic consideration for entering, renewable scholarships.  Most of our scholarships are merit-based, but we also review applicants holistically based on the following factors:
Academic Excellence and Other Indicators of High Achievement
Contributions to Diversity of the Class
Residency
Recruiting Considerations
Special Endowed Scholarships
Dean's Scholarships
Nonresident applicants who display academic excellence, possess a strong LSAT score or contribute to diversity receive consideration for the Dean's Scholarships.  Each scholarship is valued at more than $15,000, which covers the cost of nonresident tuition.