After 46 years of teaching at the University of Mississippi School of Law, Guthrie "Guff" Abbott has officially completed his final semester at the law school. Abbott began teaching at the University in 1970. He retired from teaching full time in 2001 and received Emeritus status. Since 2001, he has continued to teach Mississippi Civil Practice.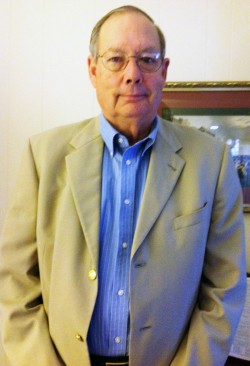 "Guff Abbott is revered by four decades of students as one of the law school's outstanding professors and the state expert in civil procedure," said Debbie Bell, interim dean of the law school. "I can still recall details of his lectures my third year of law school when he led the task force that oversaw adoption of the Mississippi Rules of Civil Procedure. He somehow managed to make any material interesting."
Abbott graduated from the University of Mississippi School of Law in 1967. He practiced law in Gulfport, MS for four years before returning to the university. As a professor, he was elected Outstanding Professor of Law five times, he was the first recipient of the Butler Snow Lectureship in Law in 1991, and he was the recipient of the University of Mississippi Outstanding Teacher Award in 1986.
"They've been too good to me," Abbott said of his accolades. "I've gotten more than my share, more than I deserve."
Abbott also served as Acting Dean from 1985 to 1987. In 1974, he received a fellowship to Harvard and spent a year there. Abbott's favorite part of teaching is the relationships he's built through the years.
"I enjoy watching kids that I taught grow up and become senior partners in major law firms, governors, senators; I think I've taught between 7,000 and 8,000 people throughout the years," he said. "Not too long ago we were having a luncheon with the Mississippi Supreme Court, and somebody asked me if I was nervous meeting with them. I said 'Not really, I taught seven of them!'"
Throughout his years of teaching, Abbott has also been active in the state. He is a past president of the Mississippi Bar, past chair of the Lamar Order, and he served on the Mississippi Supreme Court Advisory Committee on the Rules of Civil Practice and Procedure for many years, including terms as Chair and Vice-Chair. He and fellow law professor Bob Weems started a seminar of the summary of recent Mississippi Law that was held three different locations around the state each year.
"We'd end up having 700 to 800 lawyers and judges," he said. "It was a lot of fun but also a lot of work."
Of all his accomplishments, he has enjoyed teaching the most.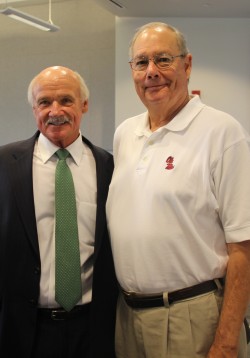 "I was just a kid when I started teaching. I was 27 and more nervous than they were, but the Lord placed me in the right position," he said. "It really has been a blessing, and I mean that sincerely. I'm happy that I've never gotten up to go to work without being excited about it and thinking about what's going to go on in class. That was just a real blessing."
Abbott plans to spend his newly found free time travelling, spending time with family, fishing, and volunteering. He is the vice president and screening manager of the Oxford Lafayette County Food Pantry, and he was elected Volunteer of the Year for the pantry in 2013.
"I enjoy volunteering with our church, and especially, I like spending time working for the Oxford Lafayette County food pantry," he said. "It will be my pleasure to devote even more time to the pantry, which is a great organization."