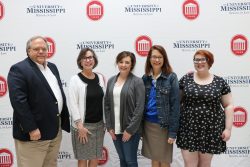 The University of Mississippi School of Law recently hosted the end of the year Pro Bono Initiative (PBI) luncheon. This luncheon recognized both student volunteers and faculty leaders, who participate in the program's efforts to help the community.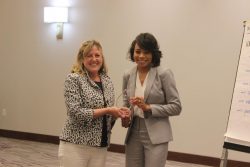 Tiffany Graves, who acted as interim director and adjunct professor for the Pro Bono Initiative, was recognized for her service and her past positions with the Mississippi Access to Justice Commission and the Mississippi Volunteer Lawyers Project.
"Tiffany Graves is the perfect recipient of the PBI award. Mississippi has been blessed by Tiffany's excellent work throughout the State ensuring that all Mississippians have access to our court system," said Judge Jacqueline Mask of the 1st Chancery District of Mississippi and advocate of the PBI. "Tiffany is extremely intelligent, diligent, and compassionate. She has a true servant's heart."
Graves is currently the Pro Bono Counsel for Bradley Arant.
Alaina Garland, a third-year law student, received the Outstanding 3L Pro Bono Initiative Volunteer of the Year Award. Garland has been extremely active with the PBI during her time at Ole Miss Law.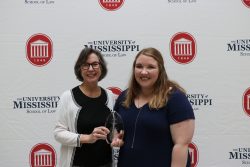 Debbie Bell, Associate Dean for Clinic Programs and Professor of Law, was honored for being the Director and Champion of the PBI. Bell has been at the helm of the PBI for past seven years and is credited with making the program a success. Bell, who is retiring this summer, officially handed the reigns over to Assistant Director Kris Simpson, a 2015 graduate of the law school.
Over the past seven years, students have volunteered their time to represent clients in day-long "mini-clinics," work on policy initiatives, and provide public education on legal issues. According to Bell, during this academic year alone, students and volunteers with the PBI helped over 300 Mississippians.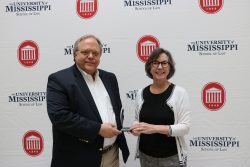 Bell, throughout her years as director, has encouraged students to take what they have been learning in the classroom and bring it to life by helping those who have low access to quality legal assistance.
"Most of these clinics provide direct assistance to low-income clients, including interviewing, formulating advice, counseling clients, and drafting pleadings or other documents," said Bell. "The students' classroom experience comes alive as they put substantive law into practice."
For more information on the current projects, visit http://oldlawschool.devclients.com/academics-programs/clinics/pro-bono-initiative/.