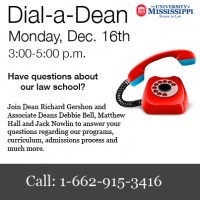 Ole Miss Law School deans will answer questions from prospective students in a Dial-a-Dean program Dec. 16 from 3-5 p.m.  The deans will field questions regarding Ole Miss Law programs, its curriculum, admissions process and more.
"Dial-a-Dean affords potential applicants an opportunity to speak directly with the leadership of our law school," said Cary Cluck, assistant dean for admissions.  "Anyone who is thinking of applying to law school or who is currently applying will come away with a more in-depth understanding of what Ole Miss Law is all about."
Prospective students are welcome to call anytime from 3:00-5:00 p.m. on Dec. 16th.  The following deans will be on hand to talk about these areas:
Those interested in participating should call 1-662-915-3416.  Callers will then be transferred to the appropriate person based on the nature of their questions.