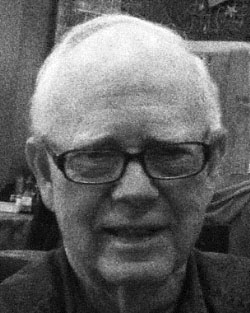 The University of Mississippi School of Law mourns the loss of Aaron Condon, professor emeritus, who died January 1 from injuries sustained in a car accident.
Condon, originally from Kosciusko, Miss., joined the law faculty as an assistant professor in 1966 after working in private practice.  He taught Civil Procedure, Criminal Procedure, General Practice, Mississippi Circuit Court Practice, Mississippi Practice, Readings in Law and Torts during the tenure of his career.  He retired from the faculty in 1989.
Condon is remembered by colleague and friend John Bradley, professor at the University of Mississippi School of Law:
"Aaron was classically educated and, with him, it took.  His curiosity and intellect prompted him to continue to learn all his life.  All who knew him remember these things about him and also his dry and interesting wit," he said.  "He brought all of this to his students (and colleagues) along with his years of experience as a lawyer and prosecutor."
Professor Condon was also a colonel of the U.S. Army and served as county attorney for Attala County, Miss. from 1960-66.  He received his bachelor's degree from the University of Alabama in 1950 and his juris doctorate from the University of Mississippi School of Law in 1952.
"I am fortunate to have had him as a friend for more than 45 years," Bradley said.  "I am among the many who will miss him and who feel lucky to have come along the way he traveled."
He is survived by his wife of 61 years, Lillene Williams Condon of Oxford; daughter Carol Epes of Jensen Beach, Florida; daughter and son-in-law Catherine and Ron Hughes and granddaughters Alexis and Haley Hughes, all of Little Rock, Ark.
A memorial service will be held Friday, January 4, 2013 at 11 a.m. at Oxford United Methodist Church in Oxford, followed by a reception at the church.  Interment will be held at 3:00 p.m. on Monday, January 7, in the Columbarium of St. Mark's Episcopal Church in Little Rock.
Read or leave a remembrance of him on the law school's Facebook page.