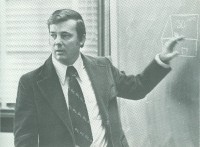 The University of Mississippi School of Law mourns the loss of Mike Featherstone, professor emeritus, who died September 8.
Featherstone joined the law faculty in 1972 specializing in the areas of property law, civil procedure, family law, eminent domain and youth court. He taught at the law school for 30 years.
A state resolution produced on his retirement remembers Featherstone as such:
"He directly influenced the legal education of hundreds of students who have gone on to become practicing lawyers and leaders in our state.  His students and former students hold him in both respect and affection."
Featherstone was educated at Davidson College, graduating in 1963.  He earned the Juris Doctor degree from the University of South Carolina in 1970 and an L.L.M. from the University of Georgia in 1971.
An officer in the U.S. Army from 1963-1965, Featherstone's tough teaching style earned him the nickname "Iron Mike".  That teaching style influenced noteworthy alumni such as Justice Bill Waller, Jr. and Ronnie Musgrove.
Professor Featherstone has four children: Catherine, Janie, Mike and Sam. Featherstone's daughter, Catherine Case, is married to current Professor of Law, David Case.
Memorial contributions in Mr. Featherstone's memory may be made to Interfaith Compassion Ministry, 904 N Lamar Blvd., Oxford, MS 38655 or The Pantry, 713 Molly Barr Road, Oxford, MS 38655.
Read or leave a remembrance of him on the law school's Facebook page.