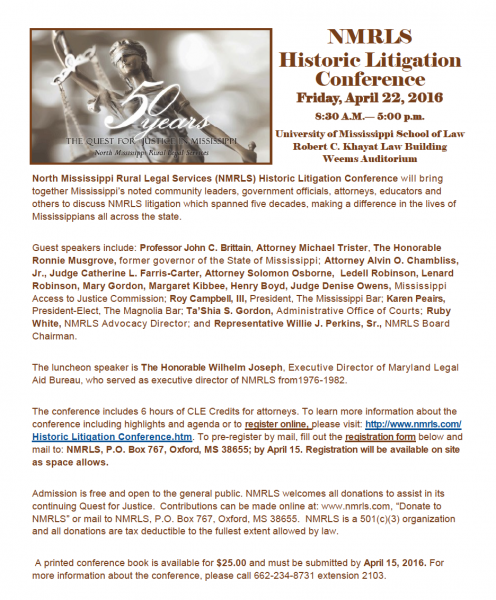 North Mississippi Rural Legal Services (NMRLS) Historic Litigation Conference will bring together Mississippi's noted community leaders, government officials, attorneys, educators and others to discuss NMRLS litigation which spanned five decades, making a difference in the lives of Mississippians all across the state.
Guest speakers include: Professor John C. Brittain, Attorney Michael Trister, The Honorable Ronnie Musgrove, former governor of the State of Mississippi; Attorney Alvin O. Chambliss, Jr., Judge Catherine L. Farris-Carter, Attorney Solomon Osborne, Ledell Robinson, Lenard Robinson, Mary Gordon, Margaret Kibbee, Henry Boyd, Judge Denise Owens, Mississippi Access to Justice Commission; Roy Campbell, III, President, The Mississippi Bar; Karen Peairs, President-Elect, The Magnolia Bar; Ta'Shia S. Gordon, Administrative Office of Courts; Ruby White, NMRLS Advocacy Director; and Representative Willie J. Perkins, Sr., NMRLS Board Chairman.
The luncheon speaker is The Honorable Wilhelm Joseph, Executive Director of Maryland Legal Aid Bureau, who served as executive director of NMRLS from1976-1982.
The conference includes 6 hours of CLE Credits for attorneys. To learn more information about the conference including highlights and agenda or to register online, please visit: http://www.nmrls.com/Historic Litigation Conference.htm. To pre-register by mail, fill out the registration form below and mail to: NMRLS, P.O. Box 767, Oxford, MS 38655; by April 15. Registration will be available on site as space allows.
Admission is free and open to the general public. NMRLS welcomes all donations to assist in its continuing Quest for Justice. Contributions can be made online at: www.nmrls.com, "Donate to NMRLS" or mail to NMRLS, P.O. Box 767, Oxford, MS 38655. NMRLS is a 501(c)(3) organization and all donations are tax deductible to the fullest extent allowed by law.
A printed conference book is available for $25.00 and must be submitted by April 15, 2016. For more information about the conference, please call 662-234-8731 extension 2103.
For more information, please call 662-234-8731 ext. 2132, or visit www.NMRLS.com.