Collegiate Recruiting and the Changing Legal Definition of "Amateurism"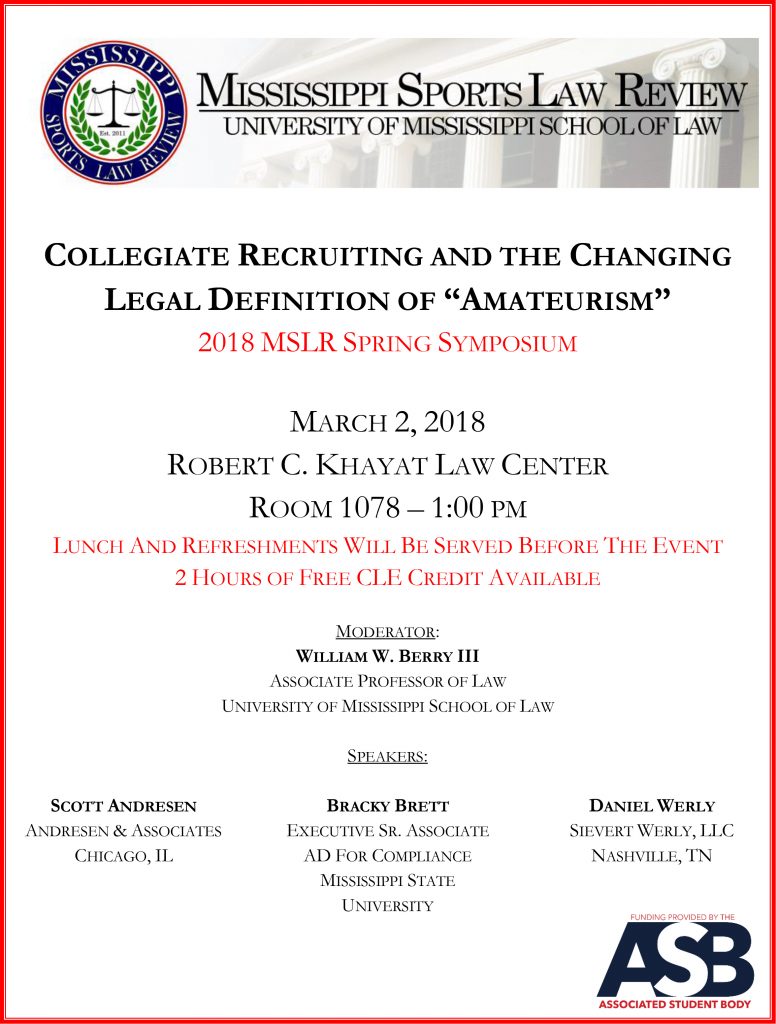 Footage from the symposium
The recruiting system has been a staple of college athletics since the inception of the NCAA in 1906. The compliance guidelines of bringing students on to a team's roster has, of course, changed a lot since the early days. However, it still has a good amount of room for improvement on both the compliance side and how these rules are defined. It is a whole new world with billions of dollars being pushed into college athletics which bring new issues to the door of the NCAA and the recruiting process.
Much of the same can be said on the definition of amateurism as well. Amateurism is the bedrock principal of the NCAA. It has caused years of litigation and on-going court battles with parties trying to change the way "student-athletes" are labeled. Because of all this money coming into the schools, more of a spotlight as been directed toward the NCAA's policy on "student-athletes" not being able to receive extra benefits outside of their education. We will ask our panel questions ranging all across this area of expertise. Where do they do they see "Amateurism" headed? Will the FBI/DOJ investigation into college basketball change anything? How much money do these programs get to make before they have no choice, but to pay the players? All these questions and more at the 7th Annual Mississippi Sports Law Review Spring Symposium.
The Mississippi Sports Law Review proudly welcomed these esteemed panelists to discuss the issue:
Scott A. Andresen is the founder of Andresen & Associates, P.C., a Chicago-based law firm focusing in the areas of sports law, entertainment and the arts, intellectual property, business law and entrepreneurial startups. Prior to founding Andresen & Associates, Scott served as in-house legal counsel for the Arena Football League, worked for the legal department of the Oakland Raiders and served as Legal Assistant to the Executive Director of the Illinois High School Association. Scott is also a sports law instructor in Northwestern University's Masters of Sports Administration program. A frequent lecturer and symposium panelist, Scott also provides legal insight and commentary on sports law and sports business topics to national television, radio, print and online media outlets, including the New York Times, Wall Street Journal, Los Angeles Times, Washington Post, Chicago Tribune, Chicago Sun-Times, Reuters, Associated Press, Bleacher Report, ESPN.com, VICE.com and Huffington Post.
Bracky Brett, Executive Sr. Associate Athletic Director for Compliance, joined the Mississippi State athletic staff in January of 2002.  He is charged with helping keep MSU Athletics operating within the rules and regulations as governed by the NCAA and Southeastern Conference.  Brett's duties include interpreting and monitoring national and conference regulations and coordinating rules education among MSU student-athletes, coaches, administrators and alumni.  He also serves as the department's contact for the NCAA and SEC. Brett came to MSU following a 24-year career as a high school teacher, coach, and administrator.
Daniel Werly is the Managing Partner of Sievert Werly LLC, a boutique sports law firm located in Nashville, TN. Dan's practice includes working with professional sports teams, colleges and universities, athletes, and corporations in the sports industry. Dan is also the Co-Chair of the American Bar Association's Sports Division, co-host of the sports law podcast Conduct Detrimental, and Editor and Founder of the sports law website, www.thewhitebronco.com. Prior to founding Sievert Werly, Dan was an associate in the Sports Industry practice at Foley & Lardner LLP in Chicago, IL.