Oxford, Miss.–The University of Mississippi School of Law is pleased to announce the hiring of John Festervand as the new senior director of development. Festervand officially assumes his role beginning July 1.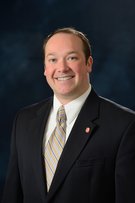 Festervand comes to the law school from the University of Mississippi Foundation, where he served as director of development for the Meek School of Journalism and New Media and the School of Education.
Festervand was the only director to oversee fundraising efforts for two schools at the university.  For Journalism, he helped establish the Overby Center Speaker Series initiative, a $1 million endowment project to bring industry leaders to campus as speakers and guest lecturers.  Festervand also recently closed a $1.5 million dollar chair position for the Integrated Marketing Communications program for the school.
While leading the annual giving efforts for the School of Education,  Festervand helped launch the One Eleven Initiative, whose annual giving goal is $111,000 for 2014 based on it being the 111th year of teacher training for the school.
In total, Festervand's efforts have accumulated over $1 million in cash, endowments and gift planning.
"During his time at Ole Miss, John has made great strides in building relationships with alumni and friends, promoting the work of the schools of journalism and education, building private support and using innovative ideas to steward donors," said Richard Gershon, dean. "We are very excited to have him at the law school and we look forward to his continued success."
Prior to Ole Miss, Festervand worked at Texas Christian University, where he was the assistant director of athletics marketing and sales. At TCU and as a graduate student at the University of Alabama, he solicited gifts and built relationships with donors, as well as developed marketing plans, implemented promotions, partnered with foundations on events and assisted with collegiate licensing.
"An important goal I have here is to raise scholarship funds for law students," Festervand said.  "I look forward to getting started, meeting our alumni and working towards that effort."
Festervand holds a bachelor's degree in communications from Middle Tennessee State University, and a master's degree in human and environmental sciences from the University of Alabama. John lives in Oxford with his wife Shevaun, who works in human resources at Ole Miss. He is an avid football fan, and also enjoys traveling in his spare time.