Oxford, Miss.–With a new senior director of development on board, the University of Mississippi School of Law hopes to revitalize its fundraising efforts, with its brick campaign being one component of that goal.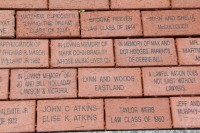 The campaign, which began when the school moved to its new building in 2011, raises money to assist with general funds for the school.
"This campaign is important because it not only helps support the law school financially, but it also is a visual image of alumni support to the school that will last a lifetime," said John Festervand, senior director of development for the law school.  "It reminds those who visit the school of the special bond our alumni have with the school."
The bricks are located near the courtyard of the building, a central location visible to passersby.  Each brick is 4×8 and  may be purchased for $250 as a tax deductible donation to the law school.
"Each graduate of the law school has helped to build it and make it better, said Richard Gershon, dean.  "They have laid the foundation for the next generation of students, and the bricks are a wonderful symbol of that foundation."
Those who have purchased bricks to date include lawyers and judges, new graduates and others who want to display their names or a memory from school in a sentimental phrase and note on the brick.  Inscription messages are flexible and range from "Grey and Macey Edmondson, Class of 2001," to "Living the Dream" and "A Lawful Nation Does Not Exist Without Lawyers."  Contributors do have the option to have bricks placed near each other if they would like to purchase a family or group order.
For more information about purchasing a brick, visit the giving areas page on the alumni section of the www.law.olemiss.edu, or contact John Festervand, senior director of development: jfesterv@olemiss.edu or 662-915-6881.