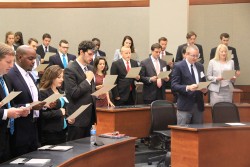 The University of Mississippi School of Law hosted a number of judges and lawyers from all over the State of Mississippi during the annual James O. Dukes Law School Professionalism Program, a half day program conducted by the Mississippi Bar Association as part of the Fall Orientation.
The program, which began in 1999, was named for former Bar President James O. "Jimmy" Dukes, who had a vision for mentoring law students on professionalism in their career.
"Jimmy was instrumental in helping the Bar and our profession focus on the importance of high standards and civility in our practice," said W. Briggs Hopson, III, current president of the Mississippi Bar Association, addressing the 1L students. "It's never too early to start talking about the importance of professionalism. The challenges that we face as attorneys are the same challenges that you will face as a law student."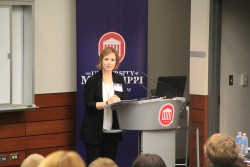 Justice Ann Hannaford Lamar, Associate Justice of the Mississippi Supreme Court, delivered the Keynote Address of the program.
"I hope you all recognize that this is a calling," she said. "Those of us who have the privilege to be a part of this profession know that it is an honorable profession with the highest tradition of service to our communities and to our fellow man. Lawyers are confidants, and they are counselors who represent clients during the most difficult times of their lives."
As part of the Dukes Professionalism Program, students participated in breakout sessions, facilitated by lawyers and judges from all over Mississippi. The students were given real world scenarios and were asked how they would handle the situations.
"Take a good look at these distinguished judges and lawyers who have taken the day out of their very busy practice to come to Oxford and to take part in this professionalism program," said Lamar. "They are here to help you understand that ethics and civility and professionalism are not just buzzwords that we use. They are what we strive for in our profession."
The program concluded with a luncheon sponsored by the Ole Miss Law Alumni Chapter.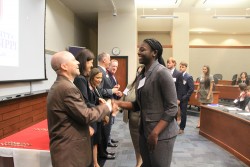 After the luncheon, 1L students participated in the Professionalism Oath Ceremony and Pinning Ceremony. This is the first year that incoming law students have taken the Professionalism Oath and received a University of Mississippi School of Law lapel pin. Macey Edmondson, Assistant Dean for Student Affairs, incorporated the Professionalism Oath and Pinning Ceremony with Orientation for a number of reasons.
"It's important to stress why being professional, courteous, and trustworthy is so important to the legal community. Attorneys represent clients' interests; an attorney's own reputation should not hinder the ability to represent the client effectively," she explained. "Furthermore, we are a self-regulating profession. Attorneys must conduct themselves and hold other attorneys to high standards. Finally, professionalism begins from day one of law school. A Student's legal reputation begins at Orientation, and we felt that the Professionalism Oath put them on notice of what is expected in the legal profession."