Oxford, Miss.–On May 19, a group of University of Mississippi School of Law alumni were sworn in as members of the Bar of the Supreme Court of the United States.  After Court convened that morning, Associate Justice Ruth Bader Ginsburg read an opinion on Petrella v. Metro-Goldwyn-Mayer, Inc., Et Al., a case involving entertainment/copyright law.  Following the opinion, Dean Richard Gershon moved before Chief Justice John Roberts that members of the school's group be admitted to the Court's bar.  Chief Justice Roberts accepted Dean Gershon's motion and granted admission.
Following the admission's event, several members of the group took a tour of the U. S. Capitol.  Fellow Ole Miss law alumnus, Congressman Gregg Harper (JD 81), provided a personal tour of the Capitol that included stops not normally provided on general tours.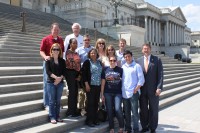 The day concluded with a reception for law alumni in the Washington, DC area.  Hosted by the BGR Group, law alumni Lanny Griffith (JD 76) and Haley Barbour (JD 73) welcomed the school's alumni and friends to the rooftop of the Homer Building (home to the BGR Group), for hors d'ouevres, beverages and socializing.
To view all photos, visit the Alumni Association's Smug Mug photo page.