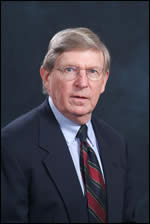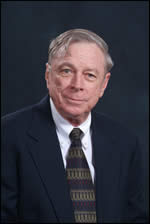 Professors Weems and Bradley Leave Lasting Legacy
OXFORD, Miss.–The University of Mississippi School of Law announces the retirement this spring of two longtime faculty members, Bob Weems and John Robin Bradley.
Professor Bradley retires after 47 years of service, having joined the law faculty in 1966.  He has taught generations of law students contracts, corporations and workers' compensation.  Similarly, Professor Weems has been on faculty for 36 years and has trained thousands of lawyers in his torts, evidence and wills courses.
"Together, these two professors have left an indelible mark on the legal profession in Mississippi and wherever their former students practice law," said Richard Gershon, dean of the law school.  "Their presence will be sorely missed, but each leaves a legacy that will transcend their retirement this year."
To commemorate their legacy, the law school has established the following:
John Robin Bradley Award for the Outstanding Graduate
John Robin Bradley Lectureship for Excellence in First-Year Teaching
Robert Weems Lectureship for Outstanding Teaching
Naming of the Robert Weems Auditorium-Room 1078
To contribute to the award and lectureships, please visit: https://law.olemiss.edu/alumni-friends/scholarships-awards-and-endowments/
In addition, a reception will be held in their honor on April 19 at 4:30 p.m. at the School of Law in conjunction with the school's Law Alumni Weekend, set for April 19-20.  Alumni may register for the weekend by visiting http://www.olemissalumni.com/events.
Background Information:
Bradley is a native of Inverness, Miss. and joined the Ole Miss law faculty in 1966 after practicing four years with Jackson firm Wise, Smith and Carter.   He is an Ole Miss Law School graduate and served as editor of the Mississippi Law Journal and on the Moot Court Board.  He is an expert in workers' compensation, having written Mississippi Workers' Compensation, a publication widely used and cited by courts.  He has served as chairman of the Mississippi Workers' Compensation Advisory Council and chairman of the Administrative Law and Workers Compensation Section of the Mississippi Bar.  In 2013, law students selected him as teacher of the year.
Professor Weems, a Jackson native, graduated first in his class from the Ole Miss law school and was assistant editor of the Law Journal.  He spent a brief time practicing law in Vicksburg before beginning his career at the Ole Miss Law School in 1977 as associate professor. Since 1989, he has been the Butler, Snow, O'Mara, Stevens and Cannada Lecturer in Law.  He is the author of numerous books on wills and estates and has taught Torts, Wills and Estates, Evidence and Trial Practice.  He has been chosen Outstanding Law Professor four times, and he won the Elsie Hood Award for outstanding teacher at the university in 1994.
Watch the retirement reception.
-###-