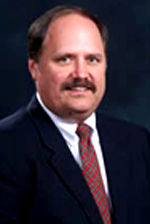 On July 1, Ron Rychlak, professor and faculty athletics representative, assumed the role as the new Butler, Snow, O'Mara, Stevens and Cannada Lecturer and Professor of Law at the University of Mississippi School of Law.  The lectureship's former holder, Bob Weems, a longtime and esteemed professor, retired this spring.
"Bob is an icon in Mississippi law, and a truly good guy who I am glad to call a friend," Rychlak said.  "I don't expect to fill his shoes, but I will try to walk in his footsteps."
The Butler Snow Lectureship is one of the most prestigious lectureships at the law school.  It was endowed in 1991 by Butler Snow law firm to recruit and retain outstanding law faculty, to insure that quality teaching, research and service will be available for future generations of Ole Miss law students.
"Professor Ron Rychlak represents the best of our profession, just like Bob Weems," said Richard Gershon, dean.  "He is an outstanding teacher, a highly regarded scholar, and he has given great service to the law school, the university, and the state."
Rychlak has served as Associate Dean for Academic Affairs for 13 years, and has been on numerous university committees, including the search committee that found Athletic Director Ross Bjork and Coach Hugh Freeze.  He's an advisor to the Holy See's delegation to the United Nations and a member of the Mississippi Advisory Committee to the U.S. Civil Rights Commission. He is on the committee appointed by the Mississippi Supreme Court to revise the state's criminal code, and he serves on the editorial board of The Gaming Law Review. He is also on the Board of Advisors for the Catholic League for Religious and Civil Rights, the Board of Governors for Ave Maria School of Law, and the Advisory Board of the International Solidarity and Human Rights Institute.
In addition, Rychlak is the author or co-author of eight books, and has been published in many law reviews, periodicals and journals, and in media outlets such as the Washington Post and the Wall Street Journal. His most recent book, Disinformation,  is co-authored with Lt. General Ion Pacepa, the highest-ranking Soviet bloc intelligence official ever to defect to the West.
"I am deeply honored to be named the Butler Snow Lecturer in Law," Rychlak said.
"The Mississippi Bar has been very supportive of this law school. There are many outstanding attorneys in this state, but I have long recognized Butler Snow as an exemplary firm. I have many friends there, and I am humbled to have my name associated with them."
In addition to Rychlak, nine other professors have been honored with the following new lectureships or fellowships:
Lectureships:
Fellowships:
The following professors will continue their lectureships: