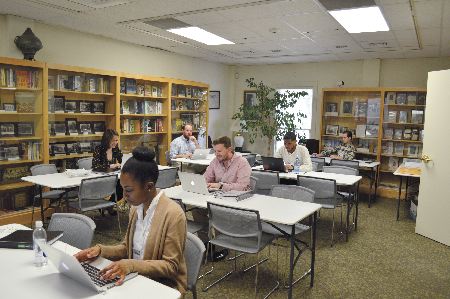 By: Professor Phil Broadhead
The Volunteer Income Tax Assistance program (VITA), in partnership with North Mississippi Rural Legal Services, once again is offering tax preparation assistance to families in the Oxford-Lafayette County area. This effort by law students is directed by Professor of Law Donna Davis, who supervises 12 students at the local public library.
"I thought it was good idea to get this hands-on experience to see the different kinds of basic issues in tax," Davis said. "It's been busier than I thought it would be, especially early on. We had tons of people. For me personally, almost every person I dealt with was a new learning experience. I've encountered very unique situations that I didn't think I would encounter."
Third-year law students Austin Emmons and Brennan Black are the site coordinators for the tax clinic.
"It's class credit through the school, but I also enjoy it because it gives you practical skills that you don't necessarily get from the classroom," Emmons said. "You get used to interviewing people and get a feel for does the client feel comfortable with what you're doing, do they understand what you're doing. It's also about helping the community."
The clinic's public service was recognized by articles in both local newspapers, the Oxford Citizen and the Oxford Eagle, as well as by the Mississippi Bar Association's Mississippi Volunteer Lawyer's Project, who awarded the VITA program the annual Beacon of Justice Award in 2015.