On Nov. 3, the United States Supreme Court heard arguments in the University of Mississippi School of Law MacArthur Justice Center case of State of Mississippi v. Brett Jones.   Jones was sentenced, and later re-sentenced, to life without parole for a crime he committed just 23 days after his fifteenth birthday.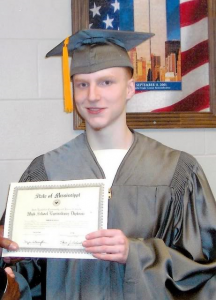 Jake Howard, legal director for the MacArthur Justice Center's Mississippi office, housed at UM Law, has represented Jones in the matter for several years.
In 2004, Jones moved from Florida to his grandparent's home in Mississippi to escape an abusive stepfather. Approximately two months later, Jones's grandfather caught him watching a movie in his bedroom with his girlfriend. Jones's grandfather became angry and ordered the girl out of his home.
Later that day, Jones was making a sandwich when his grandfather entered the kitchen. An argument ensued and quickly escalated. In his testimony, Jones said he "sassed" his grandfather, his grandfather pushed him, and Jones pushed him back. Jones had a knife in his hand from making the sandwich and when his grandfather swung at him, he "threw the knife forward," stabbing his grandfather.   Jones's grandfather continued to come at him, at which point Jones grabbed a different knife, stabbing his grandfather a total of eight times.
At trial, Jones claimed he acted in self-defense, but a jury convicted him of murder. Under Mississippi law, he was automatically sentenced to life in prison without parole.
In 2013, the Mississippi Supreme Court vacated Jones's life-without-parole sentence pursuant to the United States Supreme Court's decision in Miller v. Alabama and granted him a new sentencing hearing. At the resentencing hearing, several members of Jones's family, including his widowed grandmother, testified on his behalf. A correctional officer also testified about Jones's good behavior and efforts to rehabilitate himself during the nearly 10 years Jones spent in prison prior to the hearing. The State offered no new evidence or witnesses. Nonetheless, the trial judge resentenced Jones to life without parole. The Mississippi Court of Appeals affirmed the sentence, holding that Miller v. Alabama merely requires a sentencing judge to "consider" a set of factors related to a juvenile offender's youth before deciding whether to sentence him or her to life without parole.
According to Jones's attorneys, Mississippi's appellate courts have misinterpreted Miller v. Alabama and the United States Supreme Court's subsequent decision in Montgomery v. Louisiana.
"The United States Supreme Court announced a clear rule that you can't be sentenced to a life without parole for something you did as a child unless you are incapable of rehabilitation; unless you are so damaged that you can't even be saved, that you will always be a danger to society," said Howard to the MCIR. "Yet Mississippi has completely failed to enforce that rule."
Mississippi v. Jones is the second recent case from the UM Law's clinical programs that will be heard before the United States Supreme Court. Last year, the Mississippi Innocence Project represented Curtis Flowers, a Mississippi man who garnered national attention after enduring six trials and 23 years in jail on murder charges. The U.S. Supreme Court reversed Flowers' conviction in June 2019 in a 7-2 decision, and the state of Mississippi dropped all charges against him in September 2020.