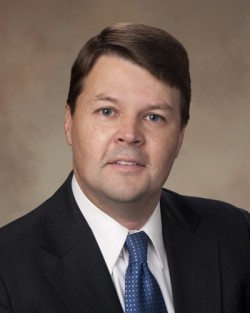 Professors Cliff Johnson and Jacob Howard from the Roderick and Solange MacArthur Justice Center at the University of Mississippi School of Law were among a team of lawyers that received the 2016 Trial Lawyer of the Year Award. The Award is given annually by Public Justice, the national non-profit firm aimed at ending injustice in the courts.
The group earned the title for their litigation work ending illegal money bail practices in various municipalities, including Moss Point, MS. The MacArthur Justice Center at UM Law and Equal Justice Under Law, a non-profit civil rights organization in Washington, D.C., filed the federal civil rights class action lawsuit challenging Moss Point's money bail system, which kept many defendants jailed while awaiting misdemeanor trials because they could not afford to pay their bail.
"The Law School is so proud of the work that Cliff, Jake, and the MacArthur Justice Clinic are doing," said Deborah Bell, dean of the Law School. "The impact on Mississippi's low income community is profound, and the litigation has ripple effects across the country as well, as this award recognizes."
The full team consisted of Johnson, Howard, Alec Karakatsanis, Matthew Swerdlin, J. Mitch McGuire, William M. Dawson, Thomas B. Harvey, Michael-John Voss, Katie M. Schwarzmann, Eric A. Foley, and William P. Quigley. The award was presented Sunday, July 24 at Public Justice's Annual Gala & Awards Dinner in Los Angeles.
"This award is not the end of the story," said Johnson, Director of the MacArthur Justice Center at the University of Mississippi. "This is an ongoing challenge to the abusive money bail system."
Johnson added that the current bail system in Mississippi is flawed.
"Bail is used for the purpose of making sure you don't flee the jurisdiction of a court. The way bail is supposed to work requires courts to receive evidence and undertake an individualized analysis of whether or not a defendant actually is a flight risk. In misdemeanor cases, it is exceedingly rare for a defendant to skip town or otherwise fail to appear. Moreover, there is no evidence that paying money to a bail bondsman makes it more likely that a person will show up for court.
All too often in Mississippi bail is determined based on a fixed schedule that does not take into account an individual's ability to pay. If a defendant can pay the full amount, he will get his money back when he appears in court. Defendants also have the option of paying a non-refundable percentage of the bail amount to a bail bondsmen who will post bail for them. Many defendants in misdemeanor cases cannot afford to pay anything, so they sit in jail until their trial.
"These cases have gotten national attention in part because they expose widespread violations of very clear legal principles regarding the proper use of bail and the incarceration of individuals solely because they are poor," said Johnson. "But for so long we have been accepting this misuse of bail that results in the incarceration of tens of thousands of poor people without asking the simple questions: When did we start getting this so wrong? Why are we imposing bail in every single case?"
In November, a settlement was reached, and Moss Point agreed to stop the practice that routinely jailed the impoverished. The MacArthur Justice Center also recently settled a case against the City of Jackson that resulted in the elimination of money bail in misdemeanor cases there. The movement is gaining traction throughout the state.
"I think that people are starting to realize that it's a bad policy, and it's expensive for municipalities and counties to incarcerate people pre-trial. The only people benefiting are bail bondsmen," said Howard. "People are starting to realize that we're using this system just because we've always done it this way. The District of Columbia has had a presumption of release for years, and their system is very successful."
"We continue to investigate bail practices throughout the state and anticipate bringing additional litigation against other municipalities regarding illegal bail practices," added Johnson. "Part of what is most gratifying and significant about our work is that we were on the front end of what is snow balling into something really big and really important, and it's the topic of a lot of conversations nationally."
Johnson added that the only other country that uses commercial bail bond companies is the Philippines. While most of the United States uses this system, its consequences are felt more in poorer areas.
"We are the poorest state in the country. We have more people as a percentage of the population who can't make bail even when it's small." he said. "The significance of incarceration is something we talk about a lot. Many studies show that even if you spend only three days in jail, the consequences are severe – you lose your job, you lose your housing. So we're reminding people constantly that after just three days, things start to unravel, and that's very bad news for defendants and the communities in which they live."
Howard noted, "One of the things that the MacArthur Center is particularly focused on is the intersection of poverty and the criminal justice system, and one of the most common examples of how poor people are affected differently is the system of money bail. As that system is currently implemented in many courts in Mississippi and elsewhere, poor people accused of crimes often remain in jail pending their trials, not because they are likely to flee or because they pose a danger to the community, but because they are simply too poor to pay a bond."
The MacArthur Justice Center at the University of Mississippi School of Law opened in the fall semester of 2014. The Center advocates for human rights and social justice through litigation, focusing on issues such as access to counsel, police misconduct, wrongful search and seizure, conditions of confinement, and juvenile justice. Students participate in all aspects of the Center's litigation including case selection, witness interviews, research, discovery, and assistance trials.
For more information on the Public Justice Trial Lawyers of the Year Award, visit the website.
For more information on the MacArthur Justice Center at the University of Mississippi, visit their website.