The University of Mississippi School of Law mourns the passing of James (Jim) McClure, Jr. (LL.B 1953), who passed away in his sleep, after a brief illness, on July 8, surrounded by his children.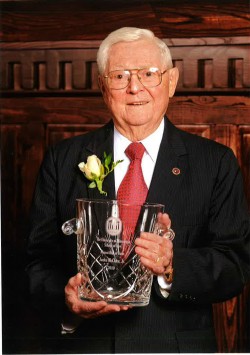 "We were very sad to learn of the passing of James McClure, Jr.," said Deborah Bell, dean of the University of Mississippi School of Law. "He was a strong advocate for and supporter of the Law School, and he will be greatly missed."
Jim McClure arrived at the University of Mississippi in 1942, but left at the end of his freshman year after receiving his appointment to the United States Military Academy at West Point from Congressman Jamie L. Whitten. He had aspirations of becoming a lawyer, and his father, a graduate of Ole Miss Law, encouraged him to return to Mississippi to begin his legal career.
"His dad told him that if he wanted to be a successful lawyer in the state of Mississippi, he needed to go to Ole Miss Law School," said Jimmy McClure (JD 1991), Jim McClure's son.
He eventually returned to the University of Mississippi to attend Law School, where he was President of the Law School Student Body, Chairman of the Honor Council, Chairman of the Moot Court Board, President of the legal fraternity Phi Delta Phi, and a member of Omicron Delta Kappa Honor Society.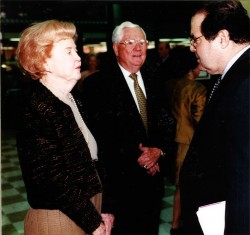 Jim McClure's Legacy lives on in the support he has given to the Law School. He established the James McClure, Sr., and Helene Powell McClure Memorial Scholarship in Law in memory of his parents. The Scholarship is awarded each year to a deserving law student, with preference given to Panola Couny, Mississippi, residents and to residents of counties contiguous to Panola County.
He and his sister Mrs. Tupper McClure Lampton also established the James McClure Memorial Lectures, in memory of their father. James McClure, Sr. was the senior member of the law firm of McClure, McClure, and May, a member of the Mississippi Board of Trustees of State Institutions of Higher Learning, chairman of the Mississippi State Oil and Gas Board, and president of the University of Mississippi Alumni Association.
Former McClure Lecturers include Justice Sandra Day O'Connor of the U.S. Supreme Court; Professor Walter E. Dellinger III, Duke University; Justice Clarence Thomas of the U.S. Supreme Court; Justice Antonin Scalia of the U.S. Supreme Court; U.S.  Sen. Thad Cochran, and General Vernon Walters.
Jim McClure was instrumental in getting Justice Scalia to visit the Law School multiple times. On Justice Scalia's last visit, he and fellow United States Supreme Court Justice Elena Kagan spoke together. Senior Associate Dean Jack Nowlin moderated the event.
"Moderating the conversation with Justices Scalia and Kagen was one of the most memorable moments of my career," said Nowlin. "This lecture series is a fantastic resource for the Law School, and we are so thankful to the McClure family for their generosity in providing it."
Jim McClure and Justice Scalia struck up a friendship, which began over their mutual love of tennis and hunting.
"Justice Scalia wanted to hunt, so the first time we asked him to come down, he said he couldn't come," said Jimmy McClure. "Dad called his secretary and said 'tell him to come in the spring, and we'll take him turkey hunting.' When he got the message, he called back himself saying he'd be there. That's how we used to get him down here; he loved to hunt."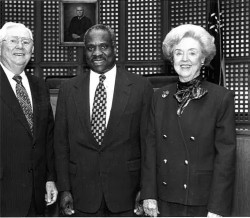 Jim McClure enjoyed a long and successful career in Mississippi. During his time as a Mississippi State Senator from 1952 – 1956, he. served as the chairman of the Mississippi Commission on Interstate Cooperation. However, he always claimed that his most important accomplishment as a Senator was meeting his wife, Angele' Kazar, whom he was married to for 53 years. Together they had four children: Circuit Judge James (Jimmy) McClure III, Angele' Anne McClure Thompson, Susan McClure Mays, and Jay Justin McClure (JD 1989).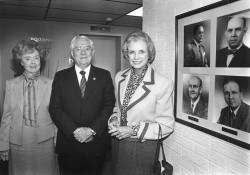 Jim McClure practiced law in Sardis for more than 60 years as a partner of McClure and Shuler in Sardis, MS, and as the Sardis City Attorney. He stayed actively involved in the Ole Miss Community, following his father's footsteps by serving as the Alumni Association President in 1985. Jim McClure was inducted into the University of Mississippi Hall of Fame in 2007 and the inaugural class of the University of Mississippi School of Law Hall of Fame in 2010. He was the Chairman of the Lamar Order, a member of the Intercollegiate Athletic Committee, Chancellor Search Committee, Chancellor's Trust, and the Ole Miss Loyalty Committee.