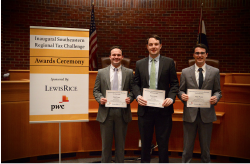 University of Mississippi School of Law students recently competed in the Inaugural Southeastern Regional Tax Challenge presented by the University of Missouri Schools of Law and Accountancy. All universities that are members of the Southeastern Conference were invited to send teams of law students and accountancy students to participate. The Ole Miss Law School team consisting of Kyle Carpenter (2L), Patrick Huston (2L), and Devin Mills (2L) took home first place after two full days of competing. They also won Best Presentation, and Devin Mills won second place in the Best Presenter category.
Each team was given a set of facts that dealt with the potential acquisition of an up-and-coming pharmaceutical company by a venture capital company. The team had two weeks to prepare their oral and written presentations for the judges (attorneys, accountants, and professors from throughout the southeast) who acted as clients.
The presentation broke down each possible acquisition method, along with the pros and cons, and also focused on the tax consequences of each acquisition method.
"It was a nice opportunity for students to think about a real-life transaction that happens quite regularly," said Professor Karen Green, who coached the students. "The students were given only about ten days to prepare, so they were under the pressure of researching the acquiring company's options and preparing their oral and written presentations. They weighed all the different options from both the tax law and the corporate law sides, and they had to prepare projections of the tax benefits depending on which way the transaction was structured. They really did a great job."
Teams were only allowed two practice sessions. To help her team prepare, Professor Karen Green enlisted the help of local tax attorneys Jack Nichols, Gray Edmondson, Josh Sage, and Brandon Dixon, along with Professors Donna Davis, Richard Gershon, K. B. Melear, and Jason Derek, to quiz the students and challenge their arguments.
On the first day of competition, the team competed twice before two different panels of judges. After the scores were compiled, they were notified that they were one of the top four teams and would be advancing to the final round, in which they were ultimately named the champions.
This was the first time Ole Miss Law has competed in a Tax Law Competition.