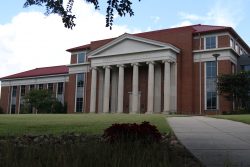 OXFORD, Miss. – The University of Mississippi School of Law's graduates who were first-time takers of the July 2018 Mississippi Bar Examination passed at a rate of 73.7 percent, substantially higher than the state's average of 58.8 percent for graduates taking the bar exam for the first time.
This overall state average is comprised of test takers from the University of Mississippi School of Law, Mississippi College School of Law and out-of-state law schools.
"I am pleased that our averages are much higher than the state average," said Susan Duncan, dean of the law school. "Despite recent fluctuations in the number of students applying to law school nationally, the University of Mississippi School of Law has maintained the same high admissions requirements we have applied for decades.
"As a result of this decision and the implementation of new academic support programs, we continue to produce top-notch graduates who are prepared for the bar examination and the practice of law."
Over the next several weeks, the school will receive bar passage reports from other states, which will be compiled into a comprehensive report to address the continued improvement of bar passage for the University of Mississippi School of Law graduates.
"Although we celebrate our alumni that passed, we will continue to consider how to improve our pass rate," Duncan said. "Our focus has always been and will continue to be preparing our students for life after law school, which includes giving students the skills needed to succeed on the bar exam and in their practice or chosen career paths."
A total of 175 students took the July bar exam. Thirty-eight of those were first-time takers from the University of Mississippi.
For more information, visit law.olemiss.edu.