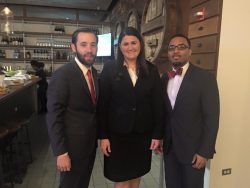 University of Mississippi National Cultural Heritage Moot Court Competition team reached the finals on Saturday, Feb. 25, 2017 in a competition held at DePaul College of Law in Chicago.
The team consisted of students Rod Hickman (3L), Alison Guider (2L) and Zac Roberson (2L), and their coach, Professor Scott DeLeve.
"The students worked very hard, and created strong arguments on two difficult issue," said DeLeve. "Their preparedness and performance in front of Federal circuit court judges and leading academicians was a credit to themselves and showed the strength of the law school."
The teammates reached the finals of the competition, earning the status of National Runner-Up. They engaged in oral arguments, focusing on the Bald and Golden Eagle Protection Act (BGEPA) Feb. 24-25 at the Everett McKinley Dirksen United States Court house.
The competition is held annually and focuses on a different cultural issue every year. It is sponsored by the Lawyers' Committee for Cultural Heritage Preservation and gives students the chance to explore a growing field that deals with symbolic, historical and emotional aspects of our culture. The Cultural Heritage field encompasses protection and preservation of cultural sites, artworks, legal rights and property.