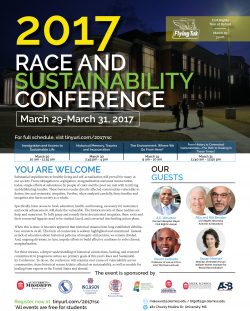 OXFORD, Miss. – "Vulnerability, Historical Memory and Healing" is the theme of the third Race and Sustainability Conference, set for March 29-31 at the University of Mississippi School of Law.
The event kicks off at 3:00 p.m. March 29 with a civil rights tour of Oxford and an opening dinner at the Burn-Belfry Museum featuring A. C. Wharton, civil rights attorney and former Memphis mayor, as the keynote speaker.
"The Race and Sustainability Conference seeks to create a deeper understanding among communities in the region and across the nation," said Professor Michele Alexandre, the conference organizer. "Together, the participants collaborate to provide solutions and models for improving the conditions faced by marginalized communities. This conference continuously attracts scholars, activists, students, and community members from across the United States and abroad."
Rita and Bill Bender, civil rights attorneys, activists, and educators, will deliver the opening lecture "Historical Memory, Archival Findings and Mississippi" Thursday morning at 9:00 at the UM Law School. Following the opening lecture is a series of panel discussions featuring scholars, activists, students and community members. Topics for panel discussions include "Immigration and Access to Sustainable Life," "Historical Memory Across Disciplines and Regions," "Historical Memory, Trauma, and Incarceration," and "The Environment: Where We Go From Here."
Devin Carbado, professor of law at UCLA will deliver a lecture entitled "Understanding the Dynamics of Marginalization, Connections and Healing Moving Forward" Thursday afternoon at 4:15 p.m. Carbado is the 2017 McClure Lecturer.
Partnering with the School of Law to present the conference are several co-sponsors: the UM Center for Inclusion and Cross Cultural Engagement, UM Center for Population Studies, Mississippi Sustainable Agriculture Network, UM School of Education, Meek School of Journalism and New Media, and the UM Law Journal
For more information about the conference, including the full schedule and registration, visit http://oldlawschool.devclients.com/sustainability-conference-series/2017-2/ or email Michele Alexandre at malexand@olemiss.edu.
By Sydney Steib