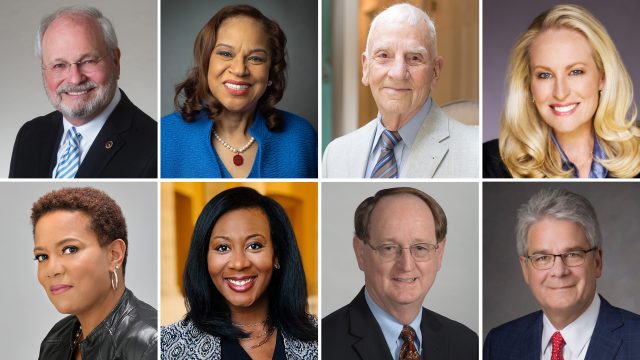 The Ole Miss Alumni Association recognized eight distinguished alumni with its highest annual awards as part of Homecoming 2023 and among those were three alums from the University of Mississippi School of Law.
Alumni Hall of Fame inductees for 2023 are: Charles C. Clark (BBA 72), of Birmingham, Alabama; Carlyle "Smitty" Harris (JD 81), of Tupelo; Mary Donnelly Haskell (BM 81), of Oxford; Stephanie J. Hickman (JD 91), of Chicago; and William Young (BBA 82, JD 84), of Dallas.
"These inductees have all made Ole Miss proud with their accomplishments in their careers and their service to the university and their communities," said Kirk Purdom, the association's CEO.
While serving as a fighter pilot in the U.S. Air Force, Harris was shot down over North Vietnam on April 4, 1965, and spent the next eight years as a POW.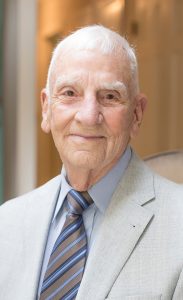 He was awarded two Silver Stars, three Legion of Merits, the Distinguished Flying Cross, two Bronze Stars for Valor, two Air Medals, two Purple Hearts and two Commendation medals.
Harris retired from the Air Force in 1979 and entered the UM School of Law. He has served as a director of Sanctuary Hospice House, Tupelo Boys and Girls Club, Leadership Lee County, Tupelo Rotary Club, North Mississippi Medical Center, and as vice chairman of the Tupelo Airport Authority.
He received the Lifetime Achievement Award from the Air Force Association. The Yocona Area Council of Boy Scouts of America named him its 2021 Distinguished Citizen.
"Ole Miss was the perfect place for me after my retirement from the Air Force, a fine institution with excellent curriculum, staff and a very competitive student body," Harris said. "I am delighted to be included in this prestigious group."
Hickman is president and CEO of Trice Construction Co., a Chicago firm that specializes in complex concrete construction projects, particularly for utility companies.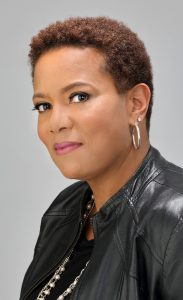 Under her leadership, the business has grown
from a small residential construction company into an award-winning infrastructure contractor serving Fortune 500 corporations and major public entities.
After graduating from Shannon High School, Hickman attended UM as an undergraduate for three years. She returned to Ole Miss in 1988 for law school, serving as a member of the Mississippi Law Journal and president of the Black Law Students Association.
Hickman spent 25 years as an attorney, lobbyist and utility executive, working in management for Exelon Corp., Duquesne Light Co. and ComEd. She was named a 2022 Outstanding CEO in Women's Enterprise Magazine and among the Notable Women in Construction and Design in 2021 by Crain's Chicago Business. She also delivered the university's 2023 Commencement address.
"I am deeply moved to receive this recognition from the Ole Miss Alumni Association," Hickman said. My years at Ole Miss shaped my thinking and provided early opportunities that developed me as a leader."
Young is a Mississippi native who followed in the footsteps of his father,
Jimmy Young (LLB 1954), and grandfather, J. Will Young, both of whom enjoyed distinguished careers in law and business in Jackson.
Upon graduation from law school, Young married and began a 29-year career in private practice that included 16 years in the Dallas and London offices of Vinson & Elkins, an international law firm, where he advised on cross-border business transactions. In 2014, he returned to London to join his longtime client, Lone Star Funds, a global private equity firm. He serves as Lone Star's global president and chief legal officer.
He is a member of the board of directors of the UM Foundation and of the Lamar Order. He is a past president of the board of directors of Wesley-Rankin Community Center, a Dallas-based civic organization.
"I am so honored and pleased that Ole Miss has chosen to recognize me with this honor," Young said. "The university provided an incredible foundation for me, which I credit for much of the personal and professional success I have enjoyed in life. I will always look back on my time at Ole Miss fondly.