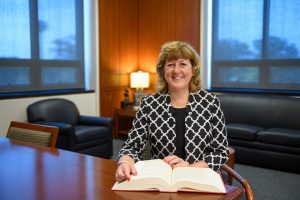 Welcome to the University of Mississippi School of Law! I am honored to serve as the first female Dean of this outstanding school. At Ole Miss Law, our goal is to provide our students with the best legal education to prepare them for their future careers. To do so, we combine our traditional core training with a skills training program that makes us one of the top skills training schools in the country.
The traditional outstanding classroom teaching and substantive law training that we are known for has not changed. Our faculty members are productive scholars who do not sacrifice their commitment to classroom teaching for their scholarship. We have also added an emphasis on student scholarship, encouraging our students to engage in academic writing and external publishing while in law school.
Our skills training program is the perfect accompaniment to a traditional core curriculum. Students have access to a semester-long in-house clinical experience in one of our 7 live-client clinics, with practice units ranging from litigation to mediation to appellate work. We also offer a competitive externship program that gives students the opportunity to gain experience outside the classroom. In addition to our clinical programs, students have the chance to be involved with our advocacy program, which has won more than 15 National Championships in the past decade!
With over 30 student organizations in a variety of interests and four concentration programs to choose from, there truly is something for everyone at Ole Miss Law, and all of this is housed on a campus voted the Most Beautiful Campus in the United States by Newsweek. I invite you to explore our website to see for yourself what makes us so unique, and please come visit us.
Sincerely,
Susan Duncan
Dean