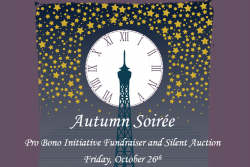 OXFORD, Miss. – The annual Autumn Soirée to benefit the University of Mississippi School of Law's Pro Bono Initiative will be held Friday, Oct. 26.
This year's theme is "Midnight in Paris," and tickets are still available at eventbrite.com or can be purchased at the door.
The Pro Bono Initiative is an in-house program that allows students to work with practicing attorneys to assist pro se litigants by interviewing clients and drafting documents. Each year, about 100 student volunteers help more than 500 low-income individuals who would otherwise not have access to solving legal issues.
"As a future lawyer, I believe that we must lead by serving others," said third year law student Sophie Pettey. "This is a way for me to give back to the community by helping make a difference in someone's life. "
All proceeds from the soiree will be used to sponsor pro bono events and help pay for the expense of having students attend those events.
"The Pro Bono Initiative is very thankful to the student body for hosting this fundraiser," Kris Simpson, PBI director, said. "The clients we help cannot afford attorneys, so not only do the students learn and practice discrete skills, they leave the event knowing they have made a difference in someone's life."
The PBI's projects involve family law, expungements, wills, powers of attorney and healthcare directives. Most recently, students presented educational legal information on paternity, custody, child support and parental rights at the Marshall County Correctional Facility.
In addition to giving back to the community, PBI allows students to better develop practical skills.
"Before I started volunteering with PBI, I had never interviewed a client or drafted a pleading," said third year law student Bri Warner. "PBI gave me the opportunity to dive in and help people with the greatest need while also teaching me how to become a more effective and zealous advocate. Without PBI, I would be far less experienced and confident in interacting with seasoned attorneys and with clients in need."
The soirée begins at 8 p.m. in the Law School Atrium and includes a silent auction, music and food. Tickets are $30 for general admission and tables of six can be purchased for $250. To purchase a table, contact Student Body Association Social Chair Hart Pepper at ehpepper@olemiss.edu.