OXFORD, Miss. – The Constance Slaughter-Harvey chapter of the Black Law Students Association at the University of Mississippi School of Law is hosting a donation drive for sanitation supplies for the Boys and Girls Club.
The Boys and Girls Club of North Mississippi is currently asking for donations of hand sanitizer, disinfectant wipes, disposable masks and disinfectant. BLSA has donation boxes located in the law school building through Monday, Sept. 14, but donations can also be made anytime directly to the Boys and Girls Club at the Washington Avenue location in Oxford.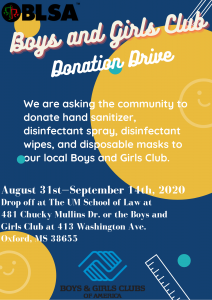 "We chose the local Boys and Girls Club because, as an organization, we desired to give back to the community that we are a part of," said Gabi Jackson, BLSA president. "Services like the ones offered at the Boys and Girls Club are so essential for the youth."
The donation drive is part of a continued partnership between BLSA and the Boys and Girls Club, who assists the organization each year and hosts an annual Halloween Party for the Boys and Girls Club.
"The Boys and Girls Club does important work and we're so happy to be able to aid them in their efforts to continue to achieve that mission," said Jackson.
For questions or more information, contact Jackson at gjackso3@go.olemiss.edu.