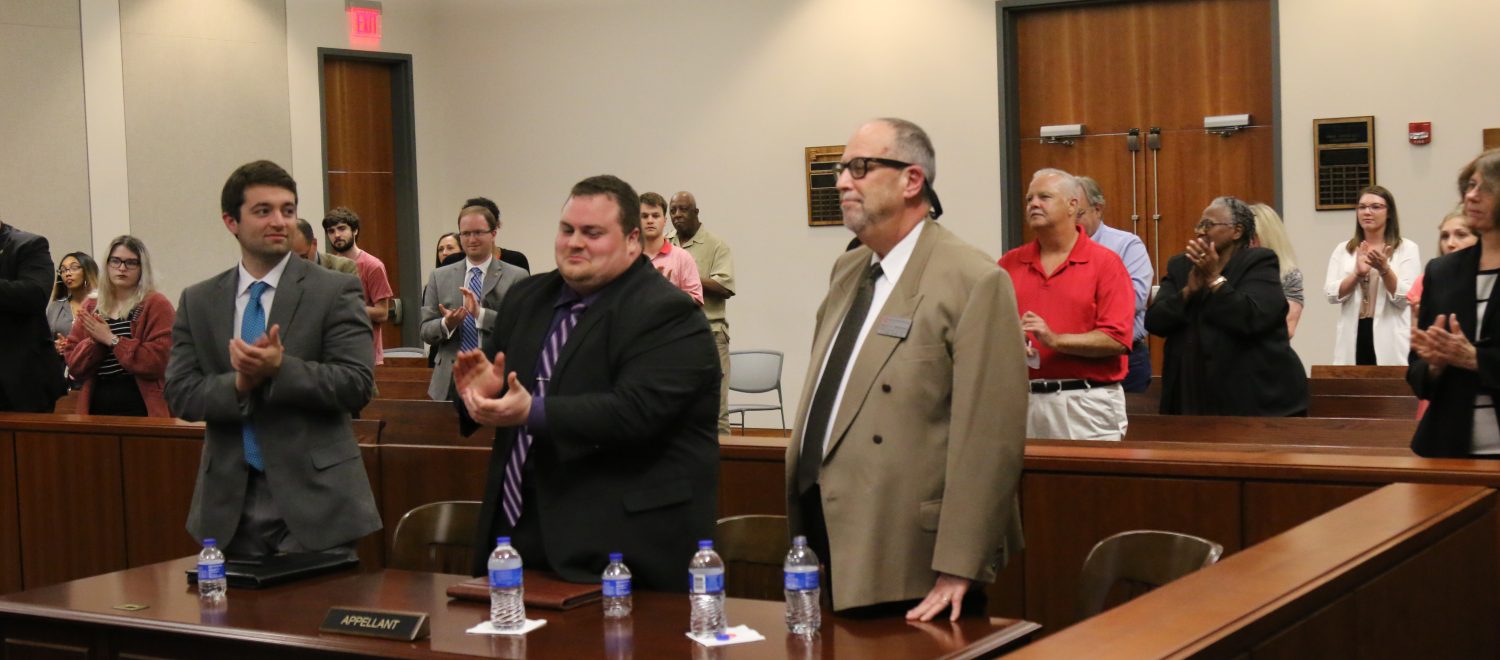 OXFORD, Miss – Phillip Broadhead, a clinical professor in the University of Mississippi School of Law, has influenced the lives of hundreds of students and residents throughout his lifelong legal career as a public defender in Mississippi.
Broadhead retires this month after serving 17 years as director of the UM Criminal Appeals Clinic.
Originally from Meridian, Broadhead graduated from Mississippi State University and Mississippi College School of Law. His career in criminal litigation began more than 35 years ago, where he served as Marion County public defender, followed by his role as assistant Hinds County public defender.
His academic career began in 2001 as an adjunct instructor at Mississippi College. He joined the UM School of Law in 2002, when he established the Criminal Appeals Clinic as an experiential learning course of study.
The clinic allows third-year students to gain practical experience in criminal law and procedure by serving as lawyers to review trial records and evidence, write case briefs and participate in oral arguments before the Court of Appeals and Mississippi Supreme Court.
"The Criminal Appeals Clinic has provided me the opportunity to work with literally hundreds of talented students who have gone out into the world ready for practice," Broadhead said.
"I am grateful to my colleagues on the faculty and to members of the bench and bar for all of the support shown to the program throughout the years, but after 35 years as a public defender, it is time for me to step away from teaching here at the law school as a full-time faculty member."
Earlier this year, Broadhead's teaching was recognized with the Ben Hardy Faculty Excellence Award.
"For several years, professor Broadhead has contemplated retirement, but like any good lawyer immersed in the work and devoted to clients – and in his case, his students, too – it took him a few years to wrap his mind around beginning a new phase of life," said Tucker Carrington, associate dean for clinical programs. "His decision is a big loss for us at the law school and for indigent state legal services."
Broadhead has supervised the representation of more than 100 clients through the clinic, where he has inspired students to become passionate advocates for their clients. His students have delivered 36 oral arguments before the Supreme Court and the Court of Appeals in Mississippi on behalf of appellants, resulting in the reversals in 18 cases since 2004.
"Professor Broadhead has accomplished so much in his career, but his most resonant accomplishment is that he has been there for his clients – almost all of whom had no one else but him to turn to for counsel – day after day, year after year, for the last 35 years," Carrington said.
In an effort to better reach and educate students, Broadhead planned and coordinated the "Court on the Road" program, which is in its 15th year. The program allows the Court of Appeals to hold special sessions and hear oral arguments of pending Criminal Appeals Clinic cases at the UM School of Law.
The court also regularly visits other institutions throughout the year to educate students on how the court system works.
He has devoted many years of service to improving the quality of representation for criminal defendants and has been an instrumental resource for Mississippi courts. The Mississippi Supreme Court tasked Broadhead to research and present data on criminal sentences over the last decade for the Sentencing Disparity Task Force.
He also has served the courts as a member of the Federal Inmate Re-Entry Program and the Mississippi Supreme Court Advisory Committee on Rules, among others.
Broadhead is a life member, past president and board director of the Mississippi Public Defenders Association, where he has worked in the organization's teaching institute to enhance the trial skills of criminal defense attorneys.
 "Golf and travel will be my primary focus for the next few years," he said.