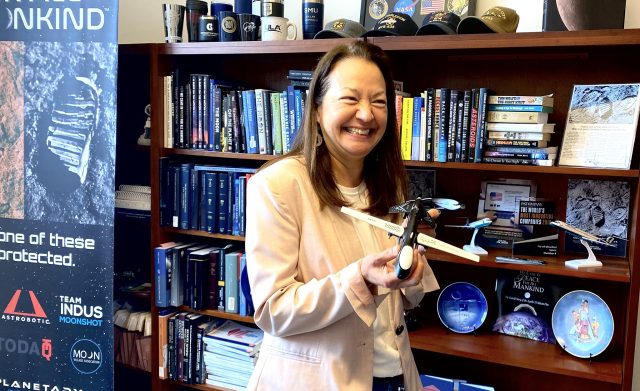 OXFORD, Miss. – The University of Mississippi Center for Air and Space Law has joined a consortium of leading research institutions focused on the advancement of unmanned aerial vehicles, or drones.
As an affiliate member of the Alliance for System Safety of UAS Through Research Excellence, or ASSURE, the university will play a key role in the advancement of drone technology, policy, regulations, training and education both nationally and internationally.
"A large part of the mission of the Center for Air and Space Law is to build a sustainable framework to support and enhance the development – and more importantly, the implementation – of UAS capabilities in Mississippi and across the nation," said Michelle Hanlon, the center's co-director and instructor in the School of Law.
"Drones have the capability and potential to save lives and better human experience in ways we can only begin to imagine. We feel privileged to join ASSURE and to support and enhance their important work."
Established and led by Mississippi State University, ASSURE includes 29 institutions focusing on the safe integration of drones into the national and international air space infrastructure. Only four states have multiple universities in the program: Alabama, Kansas, Ohio and Mississippi. International universities that belong to the program are in Canada, England, Israel and Singapore.
ASSURE members have access to four Federal Aviation Administration drone test sites, lead four FAA research centers and employ a fleet of drones ranging in sizes and abilities. Among their areas of expertise are air traffic control, drone-to-airport ground operations, control and communications, detection and camouflaging, human factors, noise reduction and wake signatures.
Hanlon, an internationally recognized air and space law expert, is editor-in-chief of the UM Journal of Drone Law and Policy, the only publication of its kind, and the UM Journal of Space Law, the world's oldest space law journal. The center provides the only legal expertise in the coalition.
"Our Center for Air and Space Law is a unique and much-needed asset for ASSURE," said Josh Gladden, UM vice chancellor for research and sponsored programs. "This is exciting news for us. Ole Miss and MSU are fierce competitors on the sports field but fantastic collaborators in the research field."
Drones have been commonly used by the U.S. military since the 1980s, and usage has expanded since the FAA first authorized them for search and rescue in civilian air space in 2006. In 2015, recreational use took off as more than 1 million drones were sold to private citizens.
Today, drones are also valuable for land surveying, mapping, managing crops, meteorology, traffic monitoring, surveillance, photography and videography, among other uses.
While the introduction of drones in the National Airspace System has opened numerous possibilities, it has also brought operational challenges including safe integration into the NAS. The ASSURE Center of Excellence conducts research to help the drone market safely grow and integrate into the nation's airspace.
"The Center for Air and Space Law will greatly benefit ASSURE and the FAA in helping to understand the current state of law, rules, regulations, guidelines and standards, so that ASSURE researchers can focus on key elements that affect change," said Col. Stephen P. Luxion, ASSURE executive director.
"Additionally, the Ole Miss air and space law team will serve as sound counsel throughout the research process. Arguably most important, the Center of Air and Space Law can take the very technical work, findings and conclusions and transform them into proposed regulatory, legal and standards language that the FAA and industry standards groups can use to move the industry forward."
Hanlon said her goal within ASSURE is to place emphasis on drone laws being sensible by developing flexible restrictions that will balance growth, safety and privacy concerns.
"We have to remember there are 50 different voices – our 50 states – deciding not only on state regulations but also the municipalities set their own regulations," Hanlon said.
ASSURE also serves as one of six Centers of Excellence established by the FAA to help advance technology and educate the next generation of aviation professionals. Hanlon said educating the public, especially K-12 students, about the advantages of drone technology is critical.
"If you go into the kindergarten classroom, hand a drone to a little girl and tell her she can be a pilot, you can change her perception of her future," she said.
This material is based upon work supported by the National Science Foundation under Grant No. 2243249.