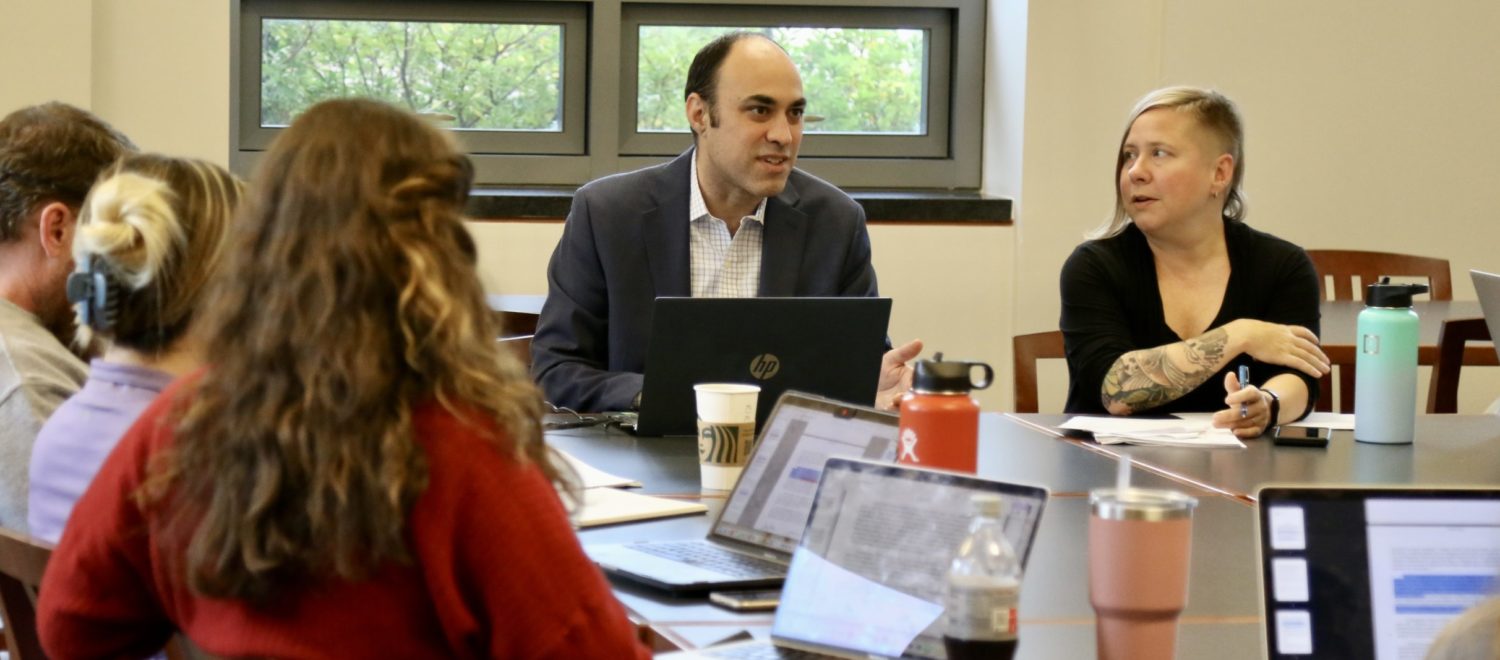 OXFORD, Miss. — Students at the University of Mississippi School of Law are getting a unique opportunity this Fall to learn about the areas of election law and politics directly from Federal Election Commission Chairman Allen Dickerson.
Contemporary Problems in Law and Politics is a one-week intensive course co-taught by Dickerson and UM Associate Professor of Law Antonia Eliason. It offers a deep dive into some of the most current topics in law and politics including: the regulation of candidates and political parties after the McCain-Feingold Act; corporations and their rights after Citizens United and what that has meant for political campaigns; and Section 230 of the Communications Decency Act, and its effect on political speech.
The goal of the course is to provide students with a practical introduction to working on these timely issues while drawing on the contrasting experiences of Eliason, a former Democratic candidate for the U.S. House of Representatives, and Dickerson, the Republican Chairman of the FEC.
"Allen and I have been close friends for nearly 20 years, and despite the occasional disagreement on how to achieve a political outcome, we are generally in agreement on what the desired outcome should be," Eliason said. "This class offers a chance for two old friends to engage in some good-humored political ribbing on hot-button topics pertaining to the way our laws regulate politics. Chairman Dickerson is one of the leading experts in the field, and we're really lucky to have him teach our students."
The course is taught in-person from Nov. 1-5, perfectly timed in advance of midterm elections around the country. It is the second time Eliason and Dickerson have co-taught the course together. To complete the one-credit-hour class, students must write a memorandum in the form of a regulatory comment, legislative proposal, or amicus brief directed at a contemporary regulatory question in the political sphere. Students said they were able to learn about the importance and complexity of election law by analyzing influential cases.
"It was a pleasure to learn from Chairman Dickerson," said Kyle Gifford, a second-year law student from Peachtree City, Georgia. "He was approachable and genuinely wanted to understand the perspective of the individual students in the class. The discussion of Citizens United was especially thought-provoking. Chairman Dickerson explained the case as a formalization of events already occurring instead of the common view of it being a sea change in the world of campaign finance, and that bad actors exist but they lack the carte blanche that some opponents thought it would gift them."
In addition to co-teaching the course, Dickerson spoke earlier in the week at an event open to all law students, where he discussed the role of the FEC and some noteworthy cases.