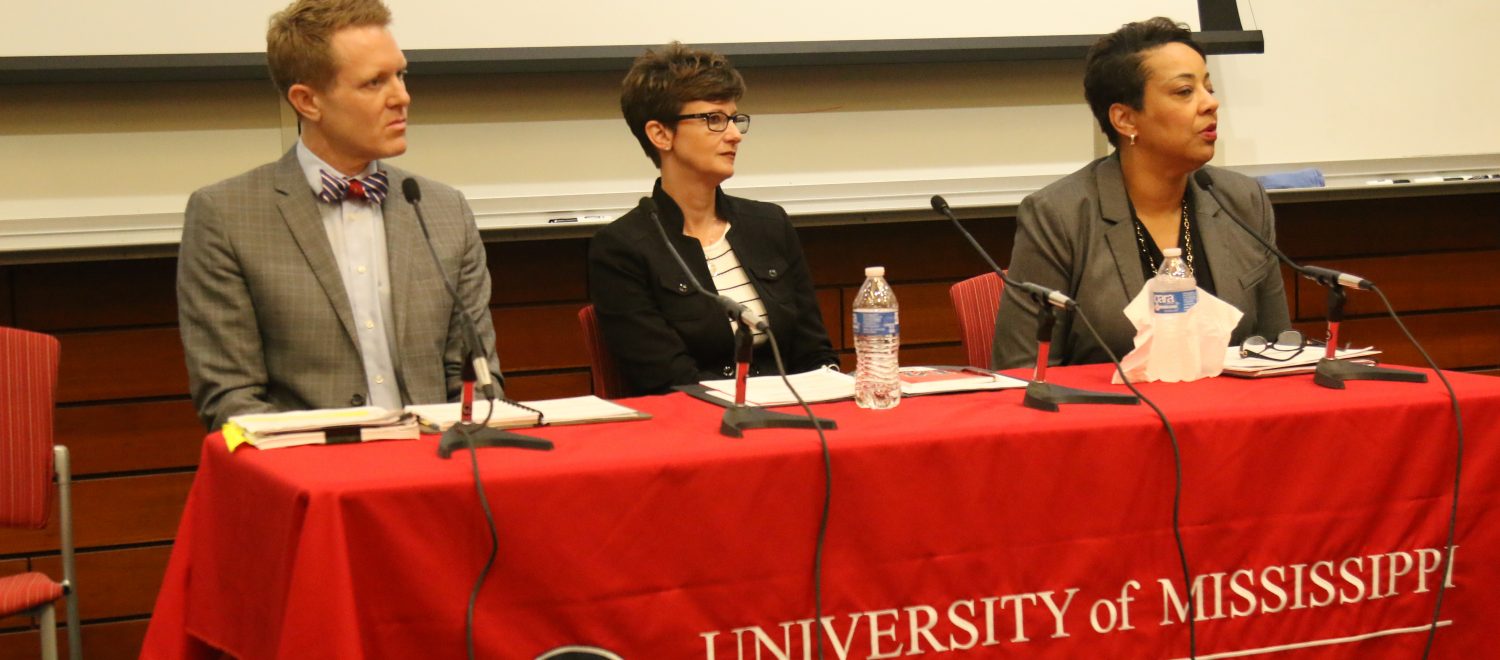 OXFORD, Miss. – Conversations about Mississippi charter schools and free speech on campuses were among the highlights of the Mississippi Education Law Conference earlier this month at the University of Mississippi.
Nearly 100 educators and attorneys attended the inaugural conference to learn about laws and policies related to issues facing schools from preschool through higher education.
"I am so pleased, and would like to thank our presenters for sharing their legal expertise and experiences with engaged attendees from across Mississippi and multiple sectors of education practice," said Kerry B. Melear, UM professor of higher education and an affiliate faculty in the School of Law. "Everyone worked together to make the first Mississippi Education Law Conference a success."
With so many rapidly evolving means of communication, education leaders were particularly interested in how to properly handle problematic or disruptive speech conducted online or through social platforms that affect students of an institution. This discussion among others surrounding topics of open records requests, hosting minors on college campuses and changes involving Title IX further highlighted the need for an interdisciplinary approach regarding educational issues.
"To my knowledge, this is the first time that P-20 educators and legal leaders were invited to gather in the state of Mississippi to dialogue and work on the key issues we all face," said Brandi Hephner LaBanc, UM vice chancellor for student affairs. "This was a flagship moment."
Hephner LaBanc was a panelist in the first session of the day regarding free speech, and she also attended many other conference sessions.
"As a higher education administrator, my focus is continually on the education of students, but law and policy influences the work in important ways," she said. "The ability to gather in one place and share ideas, forecast trends and identify solutions is an incredible opportunity.
"What was continually expressed was how no one discipline has all the answers – our work is in the gray, and our interdependence is key to our success."
The event was sponsored by UM departments of Leadership and Counselor Education and Higher Education, the School of Law and the North Mississippi Education Consortium.
Neal Hutchens, chair of the Department of Higher Education; Ryan Niemeyer, chair of the Department of Leadership and Counselor Education; and Melear assembled a diverse group of presenters from K-12 schools, postsecondary institutions and law firms.
The response to the conference has been overwhelmingly positive, Hutchens said.
"The conference provided an excellent opportunity to bring together professionals from across the P-20 education continuum, including teachers, administrators and attorneys, to learn from presenters and from each other," he said. "We hope to take feedback and lessons learned and make for an even better conference next year."
Susan Duncan, Ole Miss law dean, said the law school was grateful to host the conference, which brought so many people together.
"Law touches every other field, and it's so important to collaborate with other disciplines on law and policies that are constantly changing," Duncan said. "We look forward to continually partnering with educators so practitioners can remain informed."