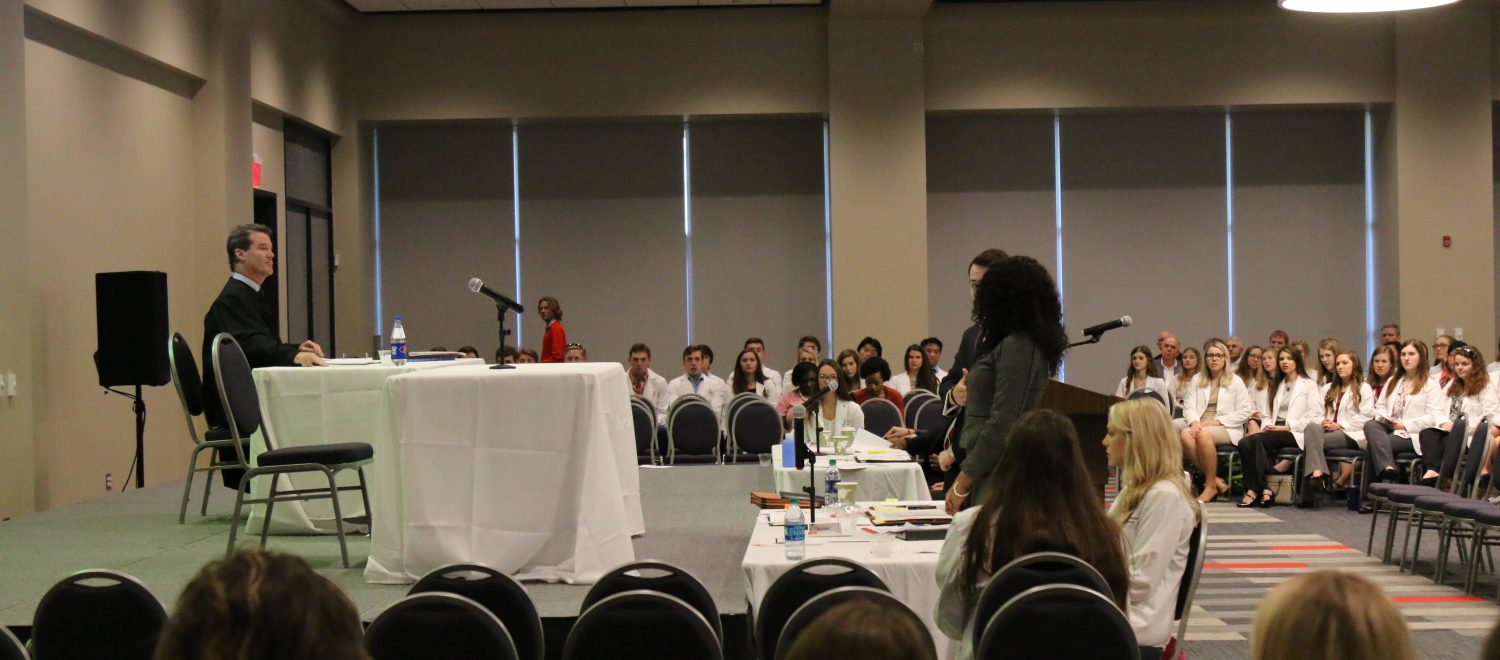 Law and Pharmacy Students Invited to Participate as Jurors
The Interprofessional Education Board (IPE) is hosting a mock trial Friday, Oct. 18 at Fulton Chapel that will involve active participation from the audience.
The trial will center on a pharmacy malpractice case in a small community. The pharmacist allegedly delivered bad care and violated the Mississippi Board of Pharmacy regulations when treatment of pneumococcal meningitis caused the plaintiff's son to go deaf.
The event is a collaboration between University of Mississippi School of Law and School of Pharmacy students. The IPE Board is the first student-led interprofessional board of law and pharmacy students in the United States. It provides students the opportunity to collaborate across disciplines to address society's most pressing issues. The Board is divided into two divisions: Mock Trial and Social Action. The law students will serve as the opposing attorneys in the trial, and the pharmacy students will act as the defendant, witnesses, pharmacy technicians, and other roles.
All law and pharmacy students are invited to attend. All attendees will be broken into groups of 12 to act as juries of trial, who will decide the verdict. The winner of the actual trial will be the side with the most juries who vote in their favor based on the facts of the case.
This is the second collaborative event between the two schools. Last year, UM Law and Pharmacy Schools hosted an Interprofessional Symposium that focused on the opioid crisis. Following the event, the student IPE Board was established.
The goal of the event is for both professional schools to offer an understanding of how different professions much collaborate to solve health-related issues in society. The event is especially of interest to all students interested in health-related law or criminal law. However, students interested in any area of practice will benefit from the mock trial and active participation.
Here is the full schedule of events:
8 a.m. – Welcome Statements
8:15 a.m. – Trial Begins
11:30 a.m. – Trial Ends & Juries Receive Instructions
11:45 – Deliberations
Noon – Break for Lunch
1 p.m. – Verdict