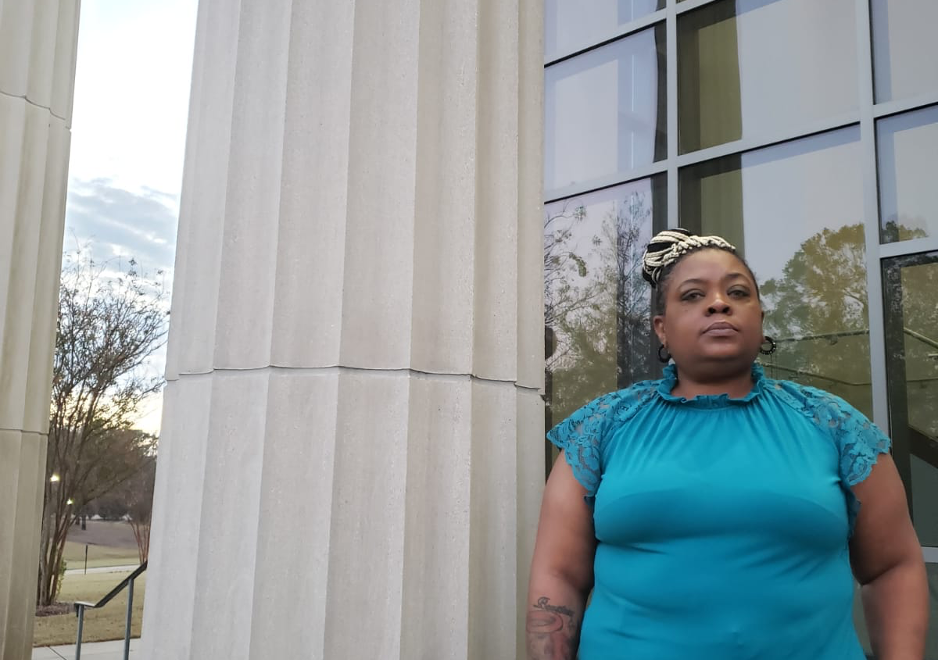 Mississippi Law Allows Landlords To Kick Tenants Out And Keep All Their Personal Property
OXFORD, Miss. – Last year, Columbus resident Samantha Conner was evicted from her apartment and had all her possessions seized by her landlord. Now she is a plaintiff in a federal court lawsuit challenging the constitutionality of Mississippi's landlord-tenant laws. An apartment rental company, the owner, the manager, and Lowndes County Constable Sonny Sanders have been sued by Ms. Conner. The state of Mississippi considers a tenant's personal belongings "abandoned" once a sheriff arrives at the resident's door to serve the tenant the warrant of eviction even if the tenant is in fact still living at the property when the sheriff arrives. Conner and her lawyers say this regime is illegal.
The Low-Income Housing Clinic at the University of Mississippi School of Law filed a lawsuit claiming Mississippi's personal property abandonment eviction law is unconstitutional because it allows landlords to effectively steal a tenant's personal property during an eviction. Judge Michael P. Mills, a United States District Judge for the Northern District of Mississippi, recently issued an order expressing "serious concerns regarding the manner in which [Conner's] personal property was handled in this case, particularly since the statutory notice with which she was provided did not make it clear that she would irrevocably and permanently lose all rights in any personal property which was still remaining on the premises at the time of eviction."
According to Ms. Conner's Complaint, when she woke up to urgent knocking at her front door on a rainy Thursday morning in February 2019, she thought it was the maintenance man finally coming to make repairs she had been asking for. Instead, her apartment manager, Kevin Casteel, and Constable Sanders were at the door. Mr. Casteel told Samantha to get out, laughed about how he was going to take all her property, and asked Constable Sanders to arrest Samantha when she argued about her property. According to Conner, the Constable wouldn't even let her take a tub of Vaseline from the bathroom and restrained her from leaving until she handed over her external hard drive she had picked up. After Mr. Casteel and Constable Sanders completed the eviction and seizure, she was left with only the clothes on her back. According to Ms. Conner's lawyers, Ms. Conner was evicted for failing to pay rent on time for the month of February, in the amount of $926. It is alleged that Conner attempted to pay rent before her eviction on February 21, 2019, but her landlord refused to accept it.
When Samantha Conner left her apartment on that rainy Thursday morning in February 2019, she says she was sure she would get her stuff back after making some phone calls. It soon will be two years since her eviction, and Conner still has no idea where her and her son's property is or if they will ever get it back. She says her landlord took valuable items from her like her computer, external drive, and her son's gaming devices. But her landlord also took her belongings that were of value only to her: the food in her fridge and cupboards, her and her son's clothes and the drawers that held them, even her and her son's personal records including birth certificates, social security card and baby pictures. Conner now believes that she will never see her property again. She thinks about how she may never get see her child's baby photos or elementary school report cards and often wonders where her items have ended up.
"I'm asking for punitive damages because I don't want this to happen to anyone else," says Ms. Conner. "They violated my constitutional rights." She expressed her concern with how the Constable could help someone violate her rights like this. After Conner and her son's eviction, they were left to start over without a single possession to their names. Conner was unable to look for or find work without her work clothes, resume, or computer and has been homeless off and on since then.
In his recent order, Judge Mills encourages the Mississippi Legislature to consider the constitutionality of the statute and, based on the facts he's read, to ask "whether the statutes are the best the state can offer in this context."
Dominique Douglas and Hunter Bell, students in the Low-Income Housing clinic who are assigned to Ms. Conner's case, say they have conducted research on state laws addressing a landlord's treatment of property after tenant eviction. At the conclusion of their research, they were saddened to learn that state law would allow for something so unfair and wondered how that law could be constitutional.
Professor Desiree Hensley is one of Samantha's attorneys at the Low-Income Housing Clinic. She says, "Eviction is hard enough because it causes families who are already struggling to become homeless. When a landlord also deprives the family of their belongings pursuant to the eviction, it is not just a low blow, but devastating, and unconstitutional. How can it be fair for the tenant or good for the State of Mississippi to allow landlords to also take every scrap of personal property that a tenant has acquired over a lifetime and to use state law enforcement officers to do it? All that does is destroy lives and make our citizens poorer. If the State of Mississippi cares about its people, it will fix the law and also ensure that its law enforcement officers are not in the business of empowering abusive landlords."
# # #
The University of Mississippi Low-Income Housing Clinic is one of the clinics the University of Mississippi School of Law offers to students, allowing students to assist individuals and families facing eviction or foreclosure and other housing issues in the state of Mississippi. Students are responsible for managing their own cases, from meeting and interviewing clients to appearing in court. Additional information is available at https://law.olemiss.edu/academics-programs/clinics/housing-clinic/.