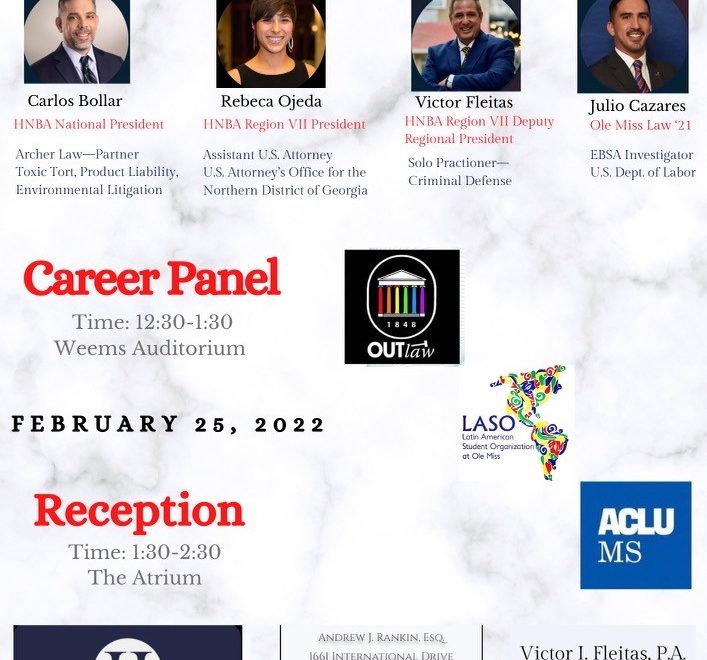 OXFORD, Miss. —The Latinx Law Students Association and the Hispanic National Bar Association is hosting a career panel Friday, Feb. 25 at 12:30 p.m. at Weems auditorium to discuss internships, clerkships and employment with students.
The panelists speaking are Carlos Bollar, Rebeca Ojeda, Victor Fleitas, and Julio Cazares.
Bollar is the current president of HNBA and Partner at Archer Attorneys at Law in New Jersey with a focus on representing clients in complex toxic tort, product liability and environmental litigation matters. Ojeda is HNBA Region VII President and serves as Assistant U.S. Attorney for the Northern District of Georgia. Fleitas is HNBA Region VII Deputy Regional President, an alumnus of UM Law, and a solo practitioner in Tupelo specializing in criminal defense, civil rights and employment law. Cazares is a 2021 graduate of UM Law and serves as an EBSA Investigator for the U.S. Dept. of Labor.
The panel discussion will include a Q&A session with a reception immediately following at 1:30 in the Atrium. The event is open to everyone. For those that cannot attend in-person, the panel will be livestreamed via YouTube.
Planning and organization of this event was led by 1L Chelsea Reyes-Gutierrez and Katy Zarate. Reyes-Gutierrez currently serves as HNBA Law Student Division Region VII Representative and Zarate is the President of UM LLSA.
The event is held with the support of OUTLaw, Latin American Student Organization at Ole Miss, and ACLU Mississippi. It is made possible through donations by Hearn Law Firm, Andrew J. Rankin, Esq., and Victor I. Fleitas, P.A.