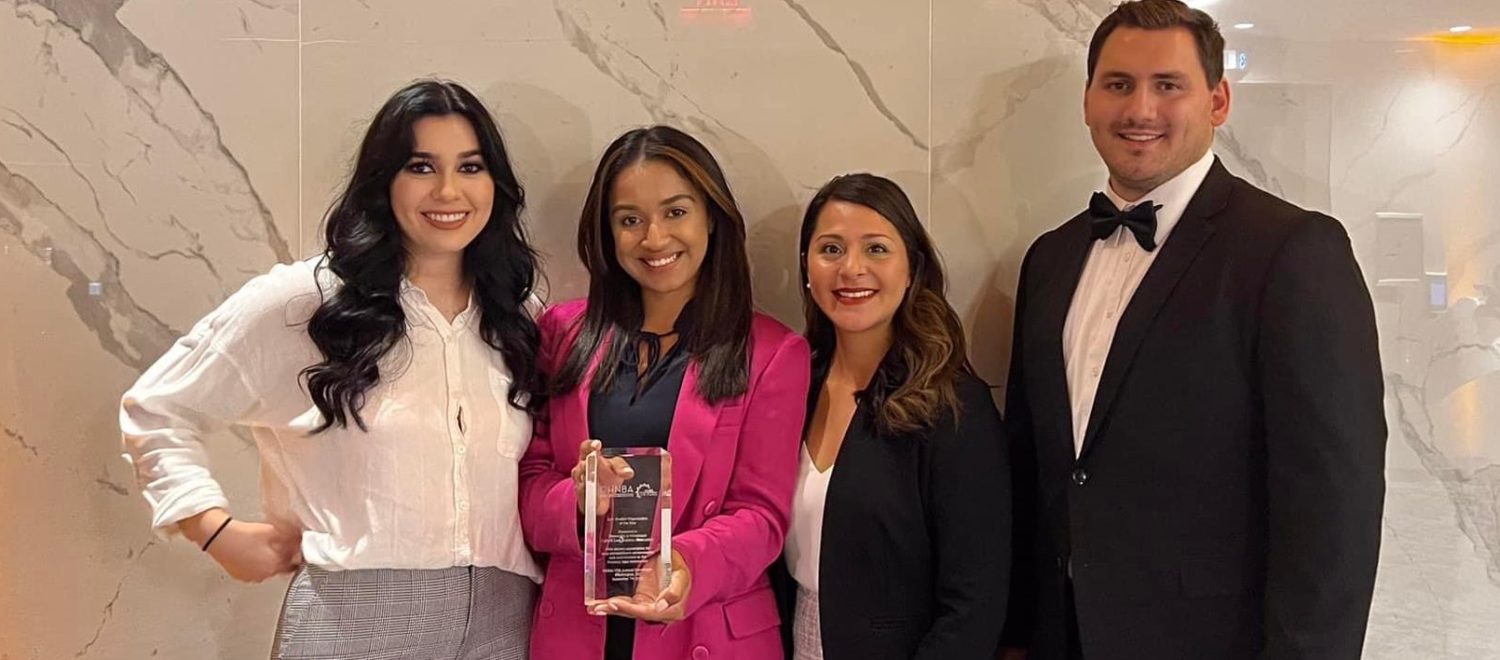 The student group La Alianza, a Latin Law Student Association, at the University of Mississippi School of Law was nationally recognized by the Hispanic National Bar Association as the HNBA Law Student Organization of the Year in the fall of 2022.
Leaders of the UM chapter of LLSA accepted the award Sept. 8 in Washington, D.C. at the HNBA's Annual Convention. It is presented to an exemplary law student organization that is actively making a difference in the community.
"It is an absolute honor to receive this award from the Hispanic National Bar Association," said Chelsea Reyes, LLSA president and second-year law student from Los Angeles. "It demonstrates that Latinos are present even in places where we are not the majority. To me, this award is a symbol of loud voices get things done.
"It is truly an honor, and this is not the end. There's more work to be done and we are excited for the future of our membership and organization. We must continue to empower and uplift those that come after us," she said.
The UM chapter of LLSA was founded in 2018 to provide support for Latino/a law students and allies in order to help them succeed in law school and beyond. In doing so, the student-led organization hosts academic, professional and social events. Last year, LLSA partnered with the HNBA to host a panel discussion at UM Law where Latino/a attorneys spoke to students about diverse career paths and networking. For the 2022-23 academic year, LLSA is hosting another panel discussion and implementing a mentorship program. Within the last year, the chapter has quadrupled in membership.
"Being nationally recognized by HNBA fills me with a sense of validation," said Neyda Martinez, LLSA vice-president and second-year law student from Pontotoc. "It means that our efforts to bring light to the importance of Hispanic/Latino representation in the legal field do not go unnoticed. We are honored and forever grateful to HNBA for providing pillars of support for our organization which will lift us as we climb while in law school and thereafter throughout our legal careers."
The HNBA was founded in 1972 to create opportunities and provide resources for Hispanic lawyers, support the recruitment of Hispanic individuals in law schools and the legal profession, and advocate for solutions to issues affecting Hispanic communities.
"The impact of our HNBA familia is truly significant," said Carlos M. Bollar, HNBA National President, in the official awards announcement. "From seasoned professionals with long careers and many successes, to relatively young leaders whose initiative and drive inspires us, we are proud to recognize their accomplishments and contributions to the profession and our society."