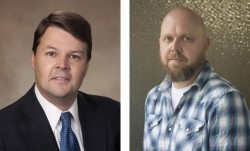 The MacArthur Justice Center at the University of Mississippi School of Law recently played a part in the adoption of the first-ever Mississippi Rules of Criminal Procedure, which the Mississippi Supreme Court unanimously adopted in December 2016. As part of the rulemaking process, the Supreme Court invited comments on the proposed rules and made revisions after considering those submissions.
The MacArthur Justice Center submitted extensive analysis and proposed revisions addressing matters such as the proper collection of court fines and fees, reform of Mississippi's bail system, the consequences of lengthy delays in seeking indictments against detained persons, and the timely appointment of counsel. The Mississippi Supreme Court adopted several changes proposed by the MacArthur Justice Center.
The Center's comments to the court were drafted by Professor Cliff Johnson, director of the MacArthur Justice Center, and Jake Howard, adjunct professor.
"We believe the new Mississippi Rules of Criminal Procedure are an important step forward in the quest for a criminal justice system that protects the rights of all those accused of criminal conduct," said Johnson. "The Supreme Court's willingness to consider input from the MacArthur Justice Center and others demonstrates the seriousness with which the Court approached the drafting of these new rules."
The rules take effect on July 1, 2017 and provide comprehensive guidance for the orderly administration of the criminal justice system in Mississippi.
"We are grateful that the Court saw fit to implement changes we proposed, and we now begin the work of monitoring compliance with these Rules throughout Mississippi, said Johnson. "As Mississippi's flagship law school, it is important for us to be aware of and respond to rulemaking and legislative efforts that impact the rights of Mississippi citizens and the practice of law in Mississippi."
Johnson and Howard will speak to Mississippi public defenders at their spring conference in April regarding the new rules and how they will change criminal proceedings.