Unprecedented Effort by MacArthur Justice Center at University of Mississippi School of Law Provides Details on Thousands of Pre-Trial Detainees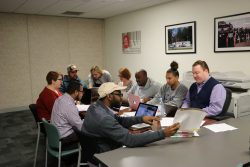 The MacArthur Justice Center at the University of Mississippi School of Law today made available to the public a comprehensive database identifying all persons detained in Mississippi's county jails. The database, available at www.MSjaildata.com, provides the names of the more than 7,000 inmates in Mississippi's local jails and includes the counties in which they are being held, the date of their arrest, the charges against them, and the total amount of time they have been in jail. The vast majority of those identified in the database have not yet been convicted and are awaiting indictment, trial, or mental health services.
The information comes from "jail rosters" obtained from Mississippi sheriffs through public records requests issued by students in the MacArthur Justice Clinic at the University of Mississippi School of Law. Under Mississippi's recently-enacted Mississippi Rules of Criminal Procedure, sheriffs now are required to produce these rosters so local judges can review the conditions of release for all bail-eligible felony defendants who have been in jail more than 90 days. Cliff Johnson, Director of the MacArthur Justice Center at UM Law, estimated that his students and staff spent more than 500 hours obtaining copies of the jail rosters and creating the database. "It should not be this hard to access information regarding who local counties have locked up, why they're holding them, and how long they have been detained." There is no uniformity in the way sheriffs across Mississippi maintain and report this data. "It took a Herculean effort by my students and our staff to make sure that people can, for the first time ever, go to a single source for this vitally important information."
The database confirms that many Mississippians awaiting trial are held in jail for months, and over a year in some cases, before their cases are taken up by any court. A search of the database reveals that more than 3,700 people have been detained in Mississippi's county jails for longer than 90 days, 2,200 for longer than 180 days, 1,200 for longer than 270 days, and 875 for longer than a year. Some of these already have been convicted and are being held in a county jail rather than a Mississippi prison, but a significant majority are pre-trial detainees. Johnson says there is no one reason that criminal cases in Mississippi take so long to be resolved. He says that delays occur for different reasons in different counties, and that there is plenty of blame to go around. "In some cases, law enforcement officers have not completed their investigations in a diligent manner or are waiting for long-overdue results from the Mississippi Crime Lab. In other cases, defendants may be sitting for months or years waiting for a mental health evaluation or treatment. Sometimes judges and prosecutors do not push cases, and sometimes defense lawyers attempt to put off cases for as long as possible. The result of all this is that people sit in jail for months – people who are presumed innocent and have not yet had their day in court."
The vast majority of those languishing in jail prior to trial are incarcerated because they cannot afford bail imposed by Mississippi judges. Therefore, it is overwhelmingly poor Mississippians unable to finance their freedom who are detained, at length, in county jails. The costs of detaining these people are borne by Mississippi's 82 counties, and the State of Mississippi does not assume the financial burden of incarceration unless or until there is a conviction. Johnson estimates that Mississippi counties pay more than $100 million per year detaining people prior to their criminal trials. "Based on the number of inmates appearing on the lists produced by Mississippi sheriffs, and assuming a conservative daily incarceration rate of $50 per day per inmate, we estimate that Mississippi counties collectively pay more than $270,000 each day and $100 million per year to incarcerate the people housed in their jails."
Jackson civil rights and criminal defense attorney Rob McDuff noted additional consequences of the system, "Many of these people stuck in our county jails are not dangerous and will never be convicted, and some won't even be indicted by a grand jury.  Because of Mississippi's system of lengthy pre-trial incarceration, innocent people can and will lose their jobs and their homes, and they have to start over with nothing when they return to their local communities.  If they remain free pending trial, as is the case for the vast majority of people charged in the federal system, they will not suffer those terrible economic and social consequences."
In addition to the litigation efforts of the MacArthur Justice Center, successful challenges to bail practices in Mississippi have been brought by the Southern Poverty Law Center, ACLU, and Civil Rights Corps. Those cases attacked the imposition of bail without consideration of factors such as personal flight risk, danger to the community, or financial condition.
The importance of the database in continuing the fight against wealth-based detention has been acknowledged by others bringing civil rights cases in Mississippi. "Transparency is key," said Sam Brooke, Deputy Legal Director of the Southern Poverty Law Center.  "So much of our pretrial detention is based simply on a person's inability to pay­.  But often, robust public data about the full extent of the problem is lacking.  This new database will help provide that data and highlight where the biggest problems are, and allow advocates and judicial administrators to focus on commonsense solutions to ending discrimination based on poverty. This is an important step in helping Mississippi fix its two-tiered system of justice."
Brandon Buskey, Senior Staff Attorney with the ACLU Criminal Justice Project in New York, added, "We need this badly, not only in Mississippi, but across the country. When we think of 'indefinite detention without trial,' places like Guantanamo Bay typically come to mind. This database shows that the same abuses are happening right here at home. It's now time for the state of Mississippi to pick up where this critical database leaves off, and continue to make this data public."
The MacArthur Justice Center asked the Mississippi Supreme Court to adopt a new rule as part of the recently-enacted Mississippi Rules of Criminal Procedure that would have limited the amount of time a person can be held in jail prior to a formal indictment, but the Court declined to do so. Johnson says they will continue to push for that reform. The Center also will ask the Mississippi Legislature to pass a bill next year requiring a uniform system for reporting Mississippi jail data and establishing a state-maintained, publicly-available database similar to the one created by the MacArthur Justice Clinic.