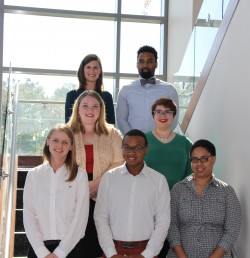 The University of Mississippi School of Law welcomed a newly founded student organization this fall. The Richard L. Barnes Native American Law Student Association was approved by the Dean of Student's Office May 19, 2016, and the founding members began promoting the organization at the Fall Student Organization Fair.
"The majority of states, including Mississippi, have at least one federally recognized tribe within them, so the likelihood that you'll practice law in a state where part of the citizenship also belongs to a sovereign tribe is pretty high," said Alain Garland, president and found of the organization. "I think it's important to have some knowledge of how the law, and your practice, might be impacted by that, and that's something that Ole Miss doesn't currently offer any curriculum on."
The organization is named for Professor Richard L. Barnes, who taught at Ole Miss Law from 1989 until he passed away in 2013. Barnes was the only Indian Law professor at the time, and since his passing, no Indian Law courses have been offered. Noticing the lack of representation, Garland and co-founder W. Diane Maxwell (vice president) and April Chaney (treasurer) began taking the steps to form an official organization.
Now with 11 members, NALSA continues to grow in membership as well as involvement. The organization plans to host webinars with Indian Law professors from other universities and hopes to have events surrounding current legal problems for Native Americans as well as issues in Indian Law that have been present for many years.
Students interested in joining NALSA should contact the organization at olemisslawnalsa@gmail.com for more information.