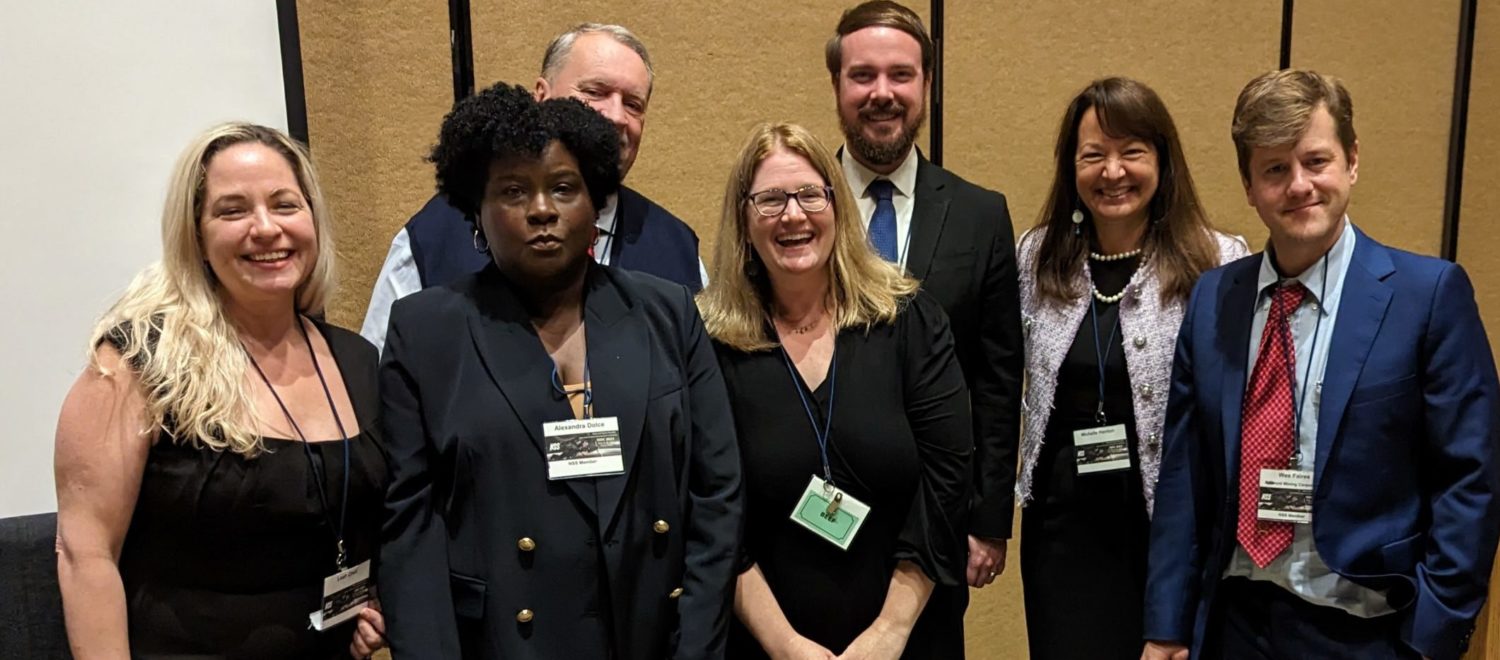 Students, recent graduates present at conference on the laws governing space
OXFORD, Miss. – Each time a person swipes their credit card, fills up their car or turns on Netflix, satellites thousands of miles above the Earth's surface work to make those transactions possible.  
Outer space has become inextricably linked to everyday life, but what are the laws governing space?  
University of Mississippi students, graduates and Michelle Hanlon, co-director of the Center for Air and Space Law at the School of Law, posed that question at the recent 41st annual International Space Development Conference in Frisco, Texas.  
"Everything we do today is related to space," Hanlon said. "This affects everybody in the world. We need to have people thinking about, 'Do we really want people to mine the moon?' We have to bring more people into that conversation. 
"What we did, our Mississippi cohort, was challenge the audience to think about questions that we've never thought about before." 
Four current or former air and space law students presented different facets of the discussion surrounding the laws of space while Hanlon chaired each panel.
Master of Law students Leah Cheli and Ed Koellner joined alumni Alexandra Dolce and Ian Perry to discuss the rules and regulatory bodies surrounding space exploration, transactions and liability claims.  
"One of the things we're really focusing on at the center is amplifying new voices and young voices," Hanlon said. "It's the people in their 20s and 30s now who will be living in this new world.  
"It's so important that we understand what our goals are and what the law says. Our students are looking at the laws and not just seeing the gaps, but finding solutions to those gaps." 
Cheli, from Orlando, Florida, spoke on the possibility of a central commerce department for space regulations. Dolce, of New York City, presented her idea of a permanent court to handle legal issues surrounding space commerce. Ian Perry, of Milford, Texas, showed audience members gaps in liability law as it regards spaceborne property.  
Koellner, a San Antonio resident who will finish his Master of Laws in spring 2024, presented on the necessity and intricacy of cybersecurity, particularly between satellites and ground stations, where many transactions happen.  
"You don't know all the things that satellites are bringing to you," Koellner said. "We take GPS for granted. Each satellite bounces the signal down to its ground station. Could someone hack into that and get that information? 
"Could someone shut down the GPS system, and how would that affect airlines or the navigation in a car?"
Students and recent graduates of the UM School of Law's Center for Air and Space Law program recently spoke on panels at the 41st annual International Space Development Conference. Pictured here are Leah Cheli, Master of Law student, front left; Alex Dolce, a recent graduate of the School of Law, second from left, front row; Ed Koelner, master of law student, first from left, second row; Allison Lewis, Center for Air and Space Law program manager, third from left, front row; Ian Perry, a graduate of the UM School of Law, second from left, second row; Michelle Hanlon, co-director of the Center for Air and Space Law, second from right and Wes Faires, who earned his graduate certificate from the center in the spring of 2023. Submitted photo.
Pondering the liability of property damage in outer space may once have existed only in science fiction, but those questions are becoming more and more relevant, Hanlon said.  
"Space affects commerce in a lot of different ways, and we have to know, in terms of laws, how this will affect us," Dolce said. "If a child is born on a space station, what nationality is that child? It's not going to be an issue until it's an issue. Everything is interconnected with the law." 
A record 180 rockets successfully launched into space in 2022, surpassing the previous record by more than 40. There are more than 8,000 satellites in orbit around Earth, not counting those that are now inactive. 
If one satellite crashes into another at 175,000 miles per hour in orbit, who pays for the damages? What regulatory body decides?  
"We're really the only institution in the world that is focused on figuring this out right now," Hanlon said. "When we turn out our LL.M. – Master of Laws – graduates, they need to be solving problems right now because they're cropping up right now."