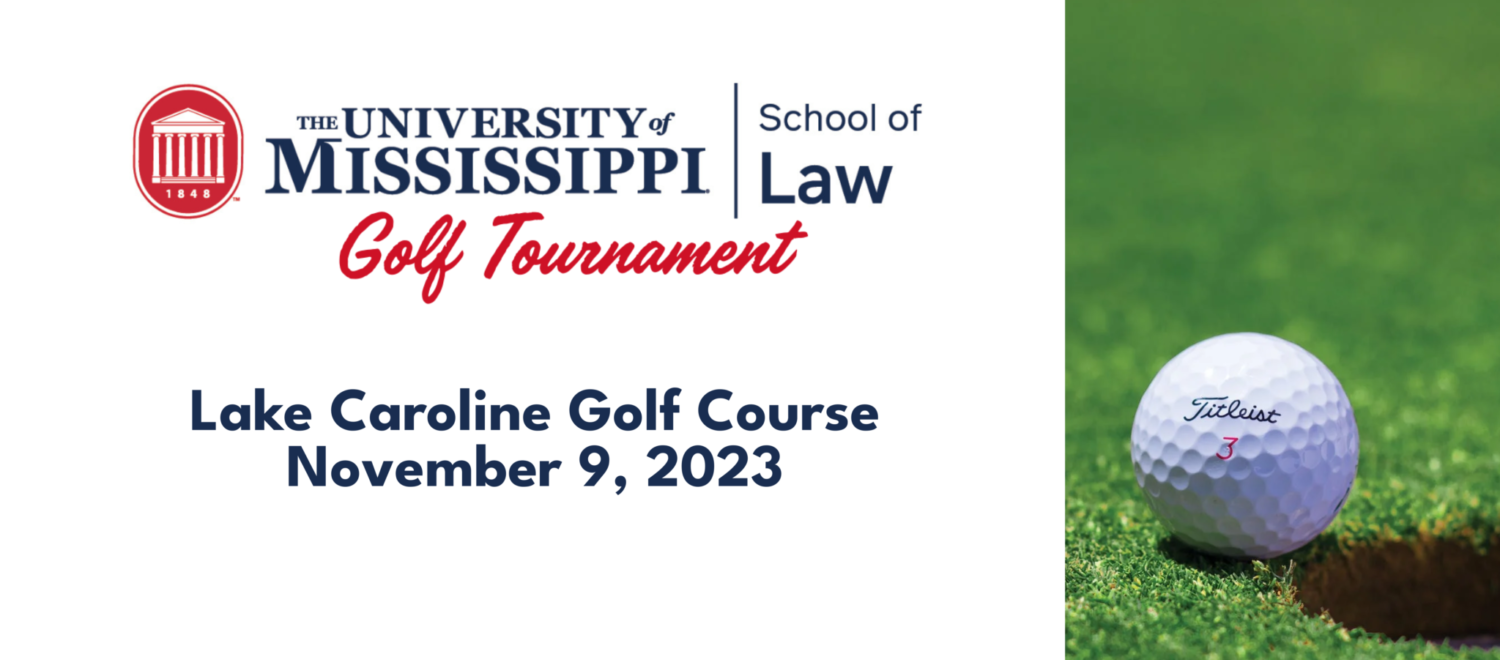 The University of Mississippi School of Law's Student Bar Association is hosting the Ole Miss Law Golf Tournament Nov. 9 at Lake Caroline Golf Course in Madison.
The tournament is a fundraiser for SBA to help law students with expenses, host events, develop community service projects, and provide programming for career development initiatives.
"The funds we raise from the tournament will strengthen our law school community and help alleviate the financial burdens law students face," said SBA President Tyler White.
Registration to play in the tournament is open through Oct. 6. The registration fee is $500 per team of four or $150 for an individual, and the cost covers green and cart fees, lunch, and beverages. Law firms, Ole Miss Law alumni, students, and friends of the Ole Miss community are invited to participate.
This year, White has the specific goal of raising enough funds to help cover the cost of each 2023 graduate's regalia.
"Currently, every graduating law student has to pay $180 for their regalia. This expense comes at the end of the year and right before the bar exam. For many of us, this is an unexpected burden," he said.
Beyond that, White wants to create a community partner in the SBA and give back to local communities. This year, the SBA is partnering with a local underserved school to provide students with mentorship opportunities, career panels, and care packages that includes snacks and essentials."
"We all came to law school because we wanted to help others, and I truly believe that starts now," White said.
There are multiple ways for law firms and alumni to get involved with the tournament. For those that can't actively participate in the event, there are sponsorship packages are available, ranging from $100 to $3,000. Current gold sponsors include: All About You Family Practice, Barbri Global, Butler Snow, Citizens Bank, CSpire, Forman Watkins, Richard Schwartz & Associates, P.A., Themis Bar Review, TeeWhites – Custom Apparel, and Yates Construction.
"Butler Snow is proud to support this tournament as we know the financial burden of law school is often an obstacle that deters young professionals from going into the field," said Christopher R. Maddux, chair of Butler Snow. "We're excited to partner with other firms in this opportunity to give back to the community and extend support to our future colleagues."
More information about sponsorship levels can be found on the law school's website.
"We are excited about the upcoming tournament, and we hope that all of our alumni in the Jackson area will join us for a great day," White said.
Register Here: https://law.olemiss.edu/alumni/golf/
The tournament will begin at noon with a shotgun start in scramble format. Check-in will be held from 10:30 a.m. – 11:30 a.m.
Lake Caroline Golf Club is located at 118 Caroline Club Cir in Madison.
Anyone interested in playing or sponsoring can reach out to White at twhite8@go.olemiss.edu.