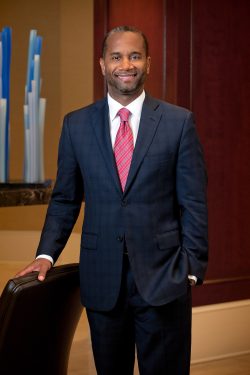 Ed Stanton, former United States Attorney for the Western District of Tennessee will speak at the University of Mississippi School of Law on Wednesday, Nov. 8 at 12:45 p.m. in Weems Auditorium as a part of the 2017-2018 Student Bar Association Speaker Series.
Mr. Stanton currently practices at Butler Snow in Memphis, and formerly served as Senior Counsel in the litigation department at FedEx.
"Mr. Stanton forged his own path: from law school to FedEx to the U.S. Attorney's Office. Now, as a partner at Butler Snow in Memphis, Tennessee, he has shown me that my legal career does not have to be linear," says Allison Bruff, President of the Student Bar Association. "I am very excited for the student body to get to hear Mr. Stanton speak. Whether civil defense, criminal prosecution, or corporate litigation is your goal, this event is for you."
Stanton is a graduate of the University of Memphis – Cecil C. Humphreys School of Law, where he was a member of the Moot Court Board, Vice President of the Student Bar Association, and President of the Black Law Students Association, as well as a recipient of the Dean's Outstanding Service Award.
Since law school, Stanton has practiced in both small and large private firms. At the age of 33, he received the Memphis Bar Association's annual Sam A. Myar Jr. Award, the highest honor the MBA gives for a lawyer under the age of 40 for outstanding legal and community service.
In 2010, President Obama appointed Stanton to be a United States Attorney. As the chief federal prosecutor for the Western District of Tennessee, Stanton oversaw the prosecution of cases involving violent crime, financial & health care fraud, racketeering, international drug trafficking, terrorism, child exploitation, and cybercrime.
In March 2017, Mr. Stanton joined the Ridgeland, Mississippi-based law firm Butler Snow as a partner in its Memphis, Tennessee office. He is a member of the White Collar, Compliance & Government Investigations team and its Commercial Litigation Practice Group. This year, Mr. Stanton received the Best of the Bar Award in the category of Public Service by the Memphis Business Journal.
The Student Bar Association invites all students, faculty & staff, and member of the Oxford-University community to this event.