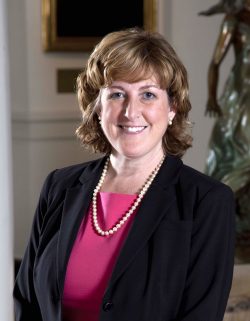 OXFORD, Miss. – After a national search, Susan Duncan has been chosen as the new dean of the University of Mississippi School of Law. She is scheduled to join the university Aug. 1, pending approval by the Board of Trustees of State Institutions of Higher Education.
"I am thrilled and deeply honored to be joining a law school with such a rich tradition and positive momentum," Duncan said. "I look forward to being part of the Ole Miss family and am excited to help take the law school to new heights."
Duncan joins UM from the University of Louisville Brandeis School of Law, where she served as interim dean from 2012 to 2017 and on the faculty since 1997. The Louisville, Kentucky, native is widely recognized in the field for her entrepreneurial approach, ability to connect to various aspects of the practice of law, deep understanding of national trends and opportunities, energetic fundraising and commitment to working across campus.
"We are extremely pleased to have such an accomplished scholar and practitioner to lead the law school," Chancellor Jeffrey Vitter said. "Ms. Duncan is well-respected by students and faculty alike and has a proven track record of successful leadership, particularly in the area of fundraising. She will be instrumental in guiding our law school to higher rankings and a greater role in Mississippi."
Duncan has received numerous honors and recognitions. The Kentucky Bar Association presented her with the 2016 President's Special Service Award, and in 2014, the Louis D. Brandeis School of Law Alumni Council presented her with the Distinguished Alumni Award.
Also in 2014, Duncan was named one of the top 20 people to know in the field of education by Business First. In 2010, the Louisville Bar Association presented her its Distinguished Service Award.
Debbie Bell, who has served as interim dean at UM for two years, will continue in that role until July 31.
"We are grateful to Debbie Bell for her outstanding leadership of the law school for the past two years," said Noel Wilkin, interim provost and executive vice chancellor. "She was able to galvanize our commitment to law education and guide our school through a challenging period of transition. She did this with determination, professionalism, confidence and an unwavering commitment to law education."
Duncan holds a J.D. from the Brandeis School of Law and a bachelor's degree from Miami University in Oxford, Ohio. She has lectured internationally, including at the University of Montpellier, France, University KwaZulu-Natal, South Africa, Johannes Gutenberg University, in Mainz, Germany, at the University of Leeds, England, and the University of Turku, Finland.
Besides numerous scholarly presentations, she has authored or co-authored dozens of publications on a variety of legal topics.
At the University of Louisville, Duncan was well-respected as a caring, committed leader as well as an accomplished fundraiser, dramatically increasing donations from Brandeis alumni and overcoming budgetary challenges that preceded her. In 2016, her fundraising efforts were recognized with the William J. Rothwell Faculty Award from the Office of Advancement.
"In addition to her accomplishments as an academic, she has a proven ability to work with law faculty, staff, students and alumni to accomplish shared goals," Wilkin said. "This ability is more important than ever, given the current issues faced by law schools, and we expect Ms. Duncan will help our school achieve new and unprecedented success."