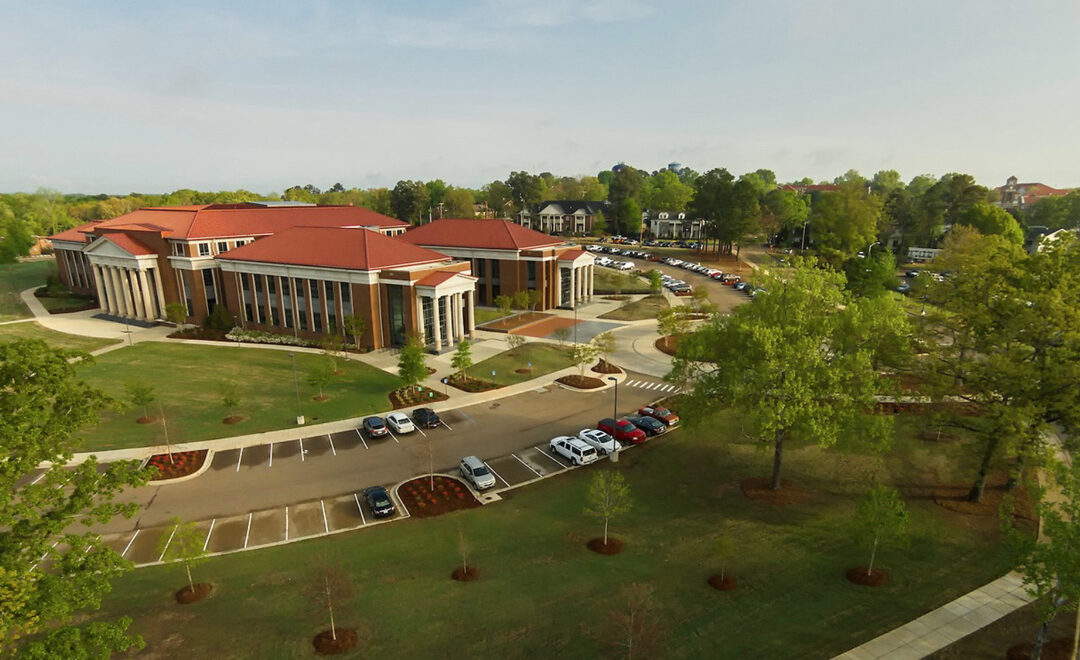 The life of an accomplished attorney is being celebrated by a generous $100,000 gift from the Maron Marvel Bradley Anderson & Tardy LLC firm to establish a scholarship benefiting military service members attending the University of Mississippi School of Law.
The Maron Marvel Bradley Anderson & Tardy LLC Scholarship Endowment in Honor of Thomas W. Tardy III will be awarded to eligible rising third-year law students with a military-service background who show a strong interest in litigation. Tardy, a former U.S. Army instructor and UM law school alumnus, passed away in March 2022.
"Tom loved being a litigator, and professionally, his hard work, leadership and successes defined a large part of him," said Stefan Bourn, a shareholder in the firm's Mississippi office who worked with Tardy for nearly 25 years.
"This scholarship will support those deserving law students exhibiting strong commitments to succeed personally as a lawyer, to serve the profession honorably and to support and lead others in the challenges of a litigator's career," said Bourn.
Susan Duncan, faculty member and former dean of the UM Law School, expressed gratitude for the endowment and the impact the scholarship will have on current and future students.
"Tom Tardy was a highly respected and gifted attorney who made a point to spend his career practicing in Mississippi," said Duncan. "He truly loved being a litigator, and this scholarship endowment recognizing and supporting our student veterans is a terrific way to honor his remarkable legacy."
A Winona, Mississippi, native, Tardy's military experiences, including his service in the Vietnam War, profoundly impacted his legal career.
"I spent several years working daily with military personnel before becoming a lawyer, and when I started working with Tom, it was easy to recognize that his military training and experiences were strong influences on his legal career," said Bourn.
"Tom was an exceptional leader and teacher to those lawyers who worked with him, and he set high standards for himself and his team members."
Cathie Pyune McEldowney, president of Maron Marvel Bradley Anderson & Tardy law firm, said Tardy's enthusiasm and passion about the law were contagious.
"He was also passionate about working with and developing his team in Jackson," McEldowney said. "Tom was generous with his time mentoring young lawyers and giving them the same opportunities that were afforded him."
A graduate of Mississippi State University, Tardy became a lifelong Ole Miss Rebel fan after returning home from his military service and enrolling in the UM School of Law. Longtime friend and colleague Jack McCants said Tardy cherished his memories as a student at Ole Miss.
"Tom had a way of connecting with people, and his time as a student at Ole Miss allowed him to grow and develop numerous dear friendships that withstood throughout his career," McCants said.
"One of the things Tom treasured most as an alum was spending his weekends in Oxford and attending Ole Miss Grove and game festivities with his wife, Rebecca, his two children and good friends."
Individuals and organizations can make gifts to the Maron Marvel Bradley Anderson & Tardy LLC Scholarship Endowment in Honor of Thomas W. Tardy III by sending a check with the designation noted in the memo line to the University of Mississippi Foundation, 406 University Ave., Oxford, MS 38655; or online here.
For more information on supporting the School of Law, contact Suzette Matthews at suzette@olemiss.edu or 601-937-1497.
By Mary Stanton Knight/UM Development