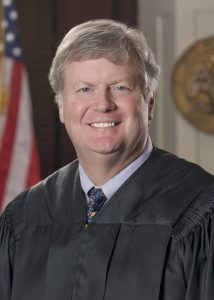 OXFORD, Miss. – Newly appointed Mississippi Supreme Court Justice T. Kenneth Griffis, Jr. will take his oath of office Feb. 1.
Griffis became Chief Judge of the Mississippi Court of Appeals earlier this month, but Gov. Phil Bryant named him to fill a vacancy on the Supreme Court as a result of the retirement of Chief Justice William L. Waller, who will retire Jan. 31.
"I am honored by Gov. Bryant's confidence and the appointment to the Supreme Court. I look forward to serving with my new colleagues to ensure justice for the people of the State of Mississippi," Griffis said. "I will miss the judges of the Court of Appeals, but am confident that they will continue the tradition of excellent judicial decisions in a timely manner."
Griffis, originally from Meridian, earned accounting and law degrees from the University of Mississippi. He was a Certified Public Account from 1984 to 2007. Griffis was elected to the Court of Appeals in November 2002 and became a presiding judge in March 2011. He is admitted to practice law before the United States Supreme Court, the Fifth Circuit Court of Appeals, the United States District Courts of the Northern and Southern Districts of Mississippi, and all Mississippi state courts.
"Judge Griffis has been an excellent appellate judge on the Court of Appeals, and he will hit the ground running at the Supreme Court," said Randy Pierce, Mississppi Judicial College executive director and former Mississippi Supreme Court Justice. "He is a true student of the law and contributes in many ways to the improvement of the bench and bar. I know Judge Griffis will be an asset to the state's highest court."
He has also taught as an adjunct professor of law at the University of Mississippi School of Law, Mississippi College School of Law, Belhaven University and Meridian Community College.
"We at the law school are so proud of Justice Griffis and his dedication to public service," said Susan Duncan, law school dean. "As an alum of Ole Miss law and adjunct instructor, he has given back to our school for many years, and we congratulate him on his new appointment."
Mississippi Supreme Court Chief Justice Michael K. Randolph will administer the oath of office to Griffis at 10 a.m. Feb. 1 in the Supreme Court En Banc Courtroom in Jackson.
"Our Court welcomes Justice Griffis, who has 16 years of appellate experience," Randolph said. "A review of the decisions he has rendered during that time establishes that he is a student of the law, and more importantly, he adheres to the rule of law."