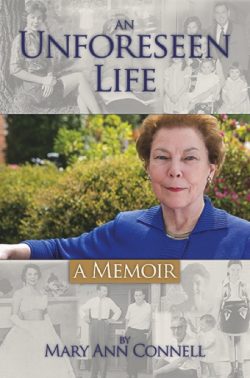 OXFORD, MS — "If it's a boy," Bill Strong announced to a crowded courtroom in Louisville, Mississippi, "I'll send up black smoke; if it's a girl, I'll send up white."
A few hours later, white smoke was billowing from the Strong's chimney. This smoke — determined by gender — would come to define Mary Ann Strong Connell's life in ways she never could have expected.
Neil White, publisher of An Unforeseen Life, said, "Readers are going to love this story of loss, faith, tragedy, and perseverance."
When Connell was eight, fire took the life of her younger brother. She blamed herself for the accident, and guilt became a motivator for the remainder of her remarkable life.
In An Unforeseen Life readers will share with Connell her experiences, as she faced a different kind of firestorm, when she became one of the first women practicing law in Oxford, Mississippi. The scenes continue to unfold when she convinces the Grand Wizard of the Ku Klux Klan to move their march off of the Ole Miss campus.
Her readers will share in her pain as she is called as an adverse witness in the wrongful termination trial of football coach Billy Brewer, who had once been her classmate at Ole Miss, and the exhaustion and difficulty of two NCAA investigations.
There are moments of humor when she warns a first-year law student named John Grisham "if you don't get serious, you'll never succeed at the practice of law" to a battle with Oxford's colorful mayor John Leslie (who took to calling her "The Sewer Queen") to a client who paid her with a sack of coons.
We witness the character growth of those around her, including her husband whose conservative beliefs about women, began to erode as he saw her succeed. We applaud her when she enrolls in law school with four young children, and when she attends Harvard Law School for an advanced degree (alongside fellow classmate Barack Obama).
An Unforeseen Life, set to be released April 11, 2017, is a powerful memoir about a woman, who embraced what she could, and tried to make the most of her life, despite an underlying sadness. Her story is a funny at times, touching, and an account of a life "most richly blessed" if sometimes in unexpected ways.
Mary Ann Connell practices law with Mayo Mallette, PLLC. She served as university attorney for the University of Mississippi from 1982 to 2003. She served as the school board attorney for the Oxford, Mississippi School District from 2003 to 2013. She has taught courses in higher education law, school law, legal research and writing; business law and employment law. She is a frequent presenter at national conferences on subjects involving higher education and school law. She is a past president of the National Association of College and University Attorneys; past president of the Mississippi Council of School Board Attorneys, and a fellow of the Mississippi Bar Foundation. She received the Distinguished Service Award from the National Association of College and University Attorneys; the NAACP Freedom Award for life-long service in the area of education and civil rights; the Mississippi Women Lawyers Association Outstanding Woman Lawyer in Mississippi Award; the University of Mississippi Chancellor's Award for outstanding contributions toward increasing diversity, and the Mortar Board National College Senior Honor Society Award for outstanding teacher of the year. In 2015, she was inducted into the Ole Miss Alumni Hall of Fame.