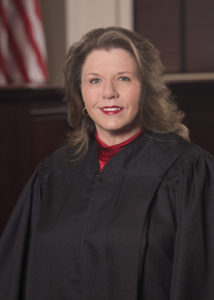 OXFORD, Miss. – University of Mississippi School of Law alumna Donna M.Barnes will become the first female to lead the Mississippi Court of Appeals on Feb. 1.
An investiture ceremony will be held for Barnes Feb. 1, where she will be sworn in as Chief Judge. Presiding Justice Michael K. Randolph, who will become Chief Justice of the Supreme Court Feb. 1, will appoint her to the position.
For the first time in its 24-year history, four of the 10 judges on the Court of Appeals will be women.
"The Court of Appeals has always had excellent leadership, and I'm honored to be called upon to continue that tradition," Barnes said.
Barnes, originally from Natchez, earned her undergraduate degree from the University of Mississippi, summa cum laude, with majors in classical civilizations and English. She earned her J.D. from the University of Mississippi School of Law, magna cum laude, in 1985. Barnes also studied at the University of Cambridge, earning a Master of Law from there in 1997.
"We are so proud of Judge Donna Barnes for making history and inspiring a new generation of future lawyers," said Susan Duncan, dean of the UM School of Law. "She is a strong role model for all our students, but especially for young women, who now outnumber men in law schools nationwide.
"It is great to see her and other women take on leadership positions, and the law school looks forward to working with Chief Judge Barnes in her new role."
For nearly two decades, Barnes practiced law with Mitchell, McNutt and Sams in Tupelo. In 2004, Mississippi Gov. Haley Barbour appointed her to the appellate court, where she was elected in 2006 and re-elected in 2010 and 2018.
"Judge Barnes, by her training, tenure and temperament, is the obvious choice to lead the Court of Appeals," said Justice Randolph. "She is well-suited to take on the additional duties of Chief Judge. She is a legal scholar. Her private practice experience focused on appellate advocacy, and she has 14 ½  years of experience on the bench."
Leadership changes on the state's two appellate courts were set in motion by the retirements of Court of Appeals Chief Judge L. Joseph Lee, Presiding Judge Tyree Irving on Dec. 31, and Supreme Court Chief Justice William L. Waller's on Jan. 31. The Chief Justice of the Supreme Court appoints the Chief Judge of the Court of Appeals from among that court's 10 members. In November, Waller selected Griffis to lead the Court of Appeals. Shortly after, Gov. Phil Bryant selected Griffis to fill the Supreme Court vacancy that will occur with Waller's retirement.
"Judge Barnes will be an outstanding Chief Judge," said Waller.
Barnes, along with Judge Virginia Carlton of Jackson, were sworn in as the first women to serve as presiding judges of the Court of Appeals on Jan. 2. The role of presiding judge involves presiding over panels during oral arguments and internal discussion of cases. The Court of Appeals handles cases in three-judge panels, although all 10 judges of the court vote on decisions.
Barnes is also a member of the Mississippi Judicial College's Board of Governors. The MJC is housed at UM and provides training for 2,800 court-related personnel throughout the state.
"Judge Barnes has played an important role in the success of the Judicial College," said Randy Pierce, MJC director and former associate Mississippi Supreme Court Justice. "She is smart, hardworking and humble. She will be an excellent Chief Judge, and I look forward to her leadership."
An investiture ceremony will be held at 1 p.m. Feb. 1 at the Gartin Justice Building in Jackson. Guest speakers include Gov. Barbour, U.S. Sen. Roger Wicker, and Joy Lambert Phillips, the first woman president of the Mississippi Bar.